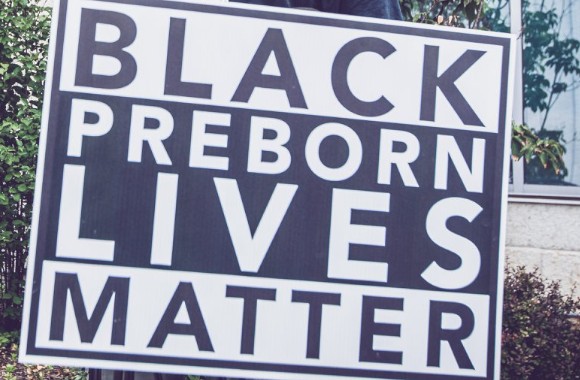 'You're about to get woke on the First Amendment,' declares organization
A pro-life student organization has promised to sue Washington, D.C. after city police officers arrested a student volunteer and staff member of Students for Life for chalking "Black preborn lives matter" on a sidewalk outside of Planned Parenthood.
Students for Life of America, which describes itself the nation's largest pro-life student organization, said that it will sue the city of D.C. and Mayor Muriel Bowser for violating its First Amendment rights.
In a blog post Saturday, Students for Life President Kristan Hawkins directed a message toward Bowser. "You're about to get woke on the First Amendment," Hawkins stated, using all-caps in some instances to emphasize her point. "The next place Mayor Bowser will see us will be in the court room."
Kristi Hamrick, a spokesperson for Students for Life, confirmed to The College Fix over email that the organization is pursuing legal action.
"We've been talking with a number of attorneys since Saturday, and the students also will have counsel. I can confirm that there will be legal action," Hamrick stated.
The group originally wanted to paint "Black preborn lives matter" on the street outside of Planned Parenthood, after Mayor Muriel Bowser allowed Black Lives Matter activists to paint "Defund the police" on another street in the nation's capital.
They ended up simply chalking the message on the sidewalk but still got arrested.
You will arrest kids for chalking pro life messages but not people rioting and causing lawlessness? https://t.co/pO87IHckQW

— Nikki Haley (@NikkiHaley) August 3, 2020
Students for Life cited Planned Parenthood's racist history and its targeting of minorities for abortions as a motivating factor for the event. This particular location commits abortion. It teamed up with the Frederick Douglass Foundation, a group that represents African-American conservatives, for the event.
The D.C. police department told Students for Life that the mayor had "opened Pandora's box" by allowing activists to paint on public streets, according to a Students for Life blog post.
However, when pro-life activists arrived to the D.C. Planned Parenthood on Saturday morning, six police cars were there. The police warned Students for Life activists that they would be arrested if they chalked on the public sidewalk in front of the abortion facility, but two Students for Life members started to chalk.
The police arrested Warner DePriest, a staff member, and Erica Caporaletti, a Students for Life leader at Towson University. The pair was charged with defacing public property, according to an email from the D.C. police department to The College Fix. DePriest regularly protests and sidewalk counsels outside of that same facility.
The students just should have told the police that they were rioting and it would've been OK. https://t.co/YxULqh5XOf

— Dana Loesch (@DLoesch) August 3, 2020
Prior to Saturday, the pro-life group said they thought it had secured permission to paint outside Planned Parenthood.
"Students for Life of America sent a letter to the D.C. mayor as well as filing a permit for an event with the D.C. Metropolitan police, in which we made it clear that we were requesting to have a news conference and to paint the street," Kristi Hamrick said.
"When SFLA picked up the event permit, we were told that the police would not prevent us from painting the street, and they requested that we use tempera paint," Hamrick said.
However, the Metropolitan Police Department disputed this claim.
It told The College Fix that "MPD did not issue a permit to put a message on the street. MPD issues permits to assemble. Any markings on the street would have to be permitted by the DC Department of Transportation."
The city's transportation department did not respond to multiple requests for comment.
Students for Life did not provide a copy of the permit, telling The College Fix: "This is now a legal matter and we are working with attorneys who are directing that part of our engagement."
Students for Life is continuing with its plans to bring to light the racial issues surrounding abortion, announcing at a press conference on Saturday that it plans to put up billboards across the nation's capital with the message "Black Preborn Lives Matter."
The event on Saturday was part of the organization's "National Pro-Life Generation Sidewalk Day." The pro-life group encouraged activists across the country to chalk pro-life messages on sidewalks.
It does not appear that any other of the group's chalking events across the country faced similar problems with the police.
Editor's note: The author of this piece is a Students for Life leader and an intern for Students for Life.
MORE: Anti-Chinese government chalkings denounced as 'racist'
IMAGE: Students for Life Facebook screenshot
Like The College Fix on Facebook / Follow us on Twitter