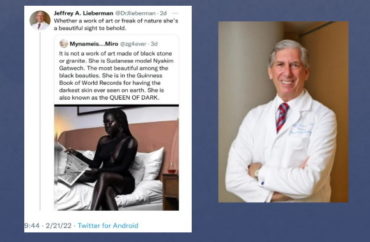 '[W]e believe his permanent removal as a faculty member is also necessary'
Despite an apology and a suspension, Columbia University Irving Medical Center students still want a doctor fired for his controversial tweet that called a black woman beautiful.
Leading psychiatrist Jeffrey Lieberman was suspended from his posts as chair of the department of psychiatry and psychiatrist-in-chief at Columbia University Irving Medical Center for his tweet late last month.
"Whether a work of art or freak of nature she's a beautiful sight to behold," he had said, referring to a photo of Nyakim Gatwech, an American model of South Sudanese descent.
In an email to peers before he was suspended, Lieberman apologized and called his tweet "racist and sexist," adding he was "deeply ashamed" of his "prejudices and stereotypical assumptions," the New York Times reported.
"An apology from me to the Black community, to women, and to all of you is not enough," Lieberman wrote in the email. "I've hurt many, and I am beginning to understand the work ahead to make needed personal changes and over time to regain your trust."
Lieberman could not be reached for comment by The College Fix. Columbia University Irving Medical Center did not respond to a request for comment as well.
Lieberman is world renowned as a leading expert on schizophrenia and well-respected in psychiatry. But psychiatry residents and graduates want him gone for good — as well as stricter diversity and inclusion measures instituted.
"[W]e believe his permanent removal as a faculty member is also necessary," psychiatry residents and graduates wrote in an open letter posted March 6 that allege the doctor's tweet reflected his "pattern of insensitive and offensive behavior."
The letter describes his tweet as "clearly racist and sexist" and a "brazen dehumanization of black women."
The signers accused the doctor of using words that "so clearly recall structural violence perpetrated against historically marginalized communities."
"…His permanent removal is one of many ways we can demonstrate to our community that regardless of status and title, Columbia has zero tolerance and is committed to combatting prejudice and bias in medicine," it stated.
Letter from @ColumbiaPsych Residents to the leadership at @nyphospital, CUIMC, NYSPI + VP&S, following Dr. Lieberman's racist comments towards Sudanese model Nyakim Gatwech. The receipts are LONG. 🧵 pic.twitter.com/uPsscD8xgd

— Bryan Leyva, MD⚕️ (@DrBryanLeyva) March 6, 2022
The students and grads demanded broader institutional reform. They called for an "objective audit" by diversity and inclusion consultants to root out racism, sexism and other alleged bias at the medical center.
On his personal Twitter account, since deleted, Lieberman referred to Sudanese-American model Nyakim Gatwech as "a work of art or freak of nature" and "a beautiful sight to behold."
"TWEET DELETED. My sincere apologies for any offense taken and indiscretion. Living and learning," Lieberman wrote in a tweet before deactivating his account.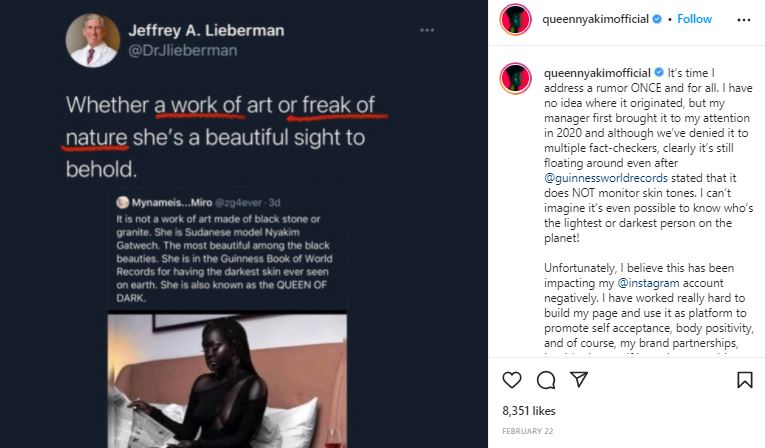 For her part, Gatwech labeled the tweet as a "rumor" on her Instagram, referring to factually incorrect information that the Guinness Book of World Records tracks and rates skin color. She did not directly address or condemn Lieberman's comments.
MORE: University cancels black, Christian scholar. She's not leaving without a fight.
Like The College Fix on Facebook / Follow us on Twitter