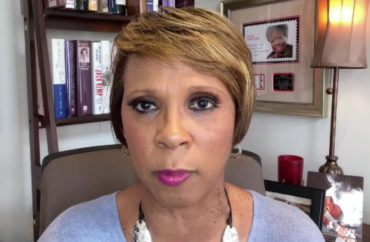 UPDATED
Sophia Nelson files religious, workplace and racial discrimination complaints against Christopher Newport University
Prominent scholar and author Sophia Nelson has filed a complaint with state and federal agencies alleging religious, workplace and racial discrimination against Christopher Newport University, where she served as the first black woman to hold its Scholar in Residence position.
Nelson made headlines last fall after she questioned on Twitter the news that Superman's son with Lois Lane would be bisexual by DC Comics, prompting protests and petitions demanding she be rebuked or fired.
The complaint, filed March 10 and considered a precursor to a lawsuit, asks the agencies to investigate the Virginia-based public university for what Nelson contends is its "practices in limiting free speech, in limiting free thought, in fostering and fomenting a campus environment of canceling, of bullying, and of harassing. I lived it first-hand."
Nelson made those comments in a 26-minute video she published March 11 in conjunction with her complaint.
After the article was published, the university's media affairs department provided a short statement to The College Fix: "Ms. Nelson's allegations of discrimination and retaliation are without merit. In fact, she and the University received notice today, March 10, 2022, that the EEOC [Equal Employment Opportunity Commission] dismissed her charges."
Nelson, in her video, said the university has opted against continuing her employment: "After this spring semester, I won't be returning to Christopher Newport University — and that wasn't my choice, that was their choice."
Nelson told The College Fix her complaint seeks administrative review.
"I have not decided to sue under Title VII or IX or civilly in court. But I am leaning in that direction. I have time to decide and will do so by summer," she said via email.
The crux of the issue centers around a tweet Nelson made from her private Twitter account in October 2021 in response to the news of Superman's bisexual son:
"Smdh. I just don't get why this is necessary. I don't! What if Christian parents of children reading comic books don't want their kids exposed to bi-sexual characters? This is being pushed on kids. Then parents have to explain it. And most cannot!"
In her complaint, she notes that she then "made clear I was not anti-gay or homophobic and find those things wrong, but that we must have free dialogue about religion and LGBTQ+ rights."
In her video, she stated that she did not tag the university and the tweet was made from home during her personal time: "Those were my thoughts, my questions, and mine alone."
Nelson also deleted the tweets and apologized.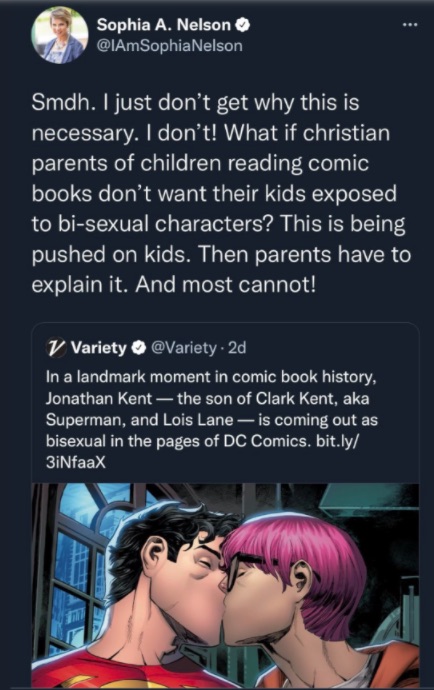 Her Twitter activity caught the eye of some on campus, both faculty and students alike, who accused her of homophobia and creating an unsafe space for them on campus.
A petition was created calling for Nelson's ouster, with students saying they were "outraged," "sad," "angry" and "uncomfortable."
In response, CNU President Paul Trible said the school would "help heal, and do the work to promote diversity, equity and inclusion."
"I felt bullied, attacked for my religious beliefs, and my race by these actions and asked what CNU was going to do to equally protect me and my rights," Nelson stated in her complaint.
She also noted in her complaint Trible's brush with cancel culture in June 2020 over racially insensitive comments he made as a campus leader in the wake of George Floyd's death:
"His letter set off a media uproar, and was called 'tone-deaf' by over 2,000 faculty and students who signed a letter condemning his racial insensitivity. He apologized, created a scholarship, and a new DEI position at the school. Despite offending marginalized African Americans, while acting in his capacity as the University's President he was given an opportunity to make amends and grow as a leader. Whereas I asked a question as a private citizen not speaking on campus or on behalf of CNU and was reviled, and demanded to be removed from the school as a scholar."
Nelson, in her video, said she is taking action because she is tired of reading every week about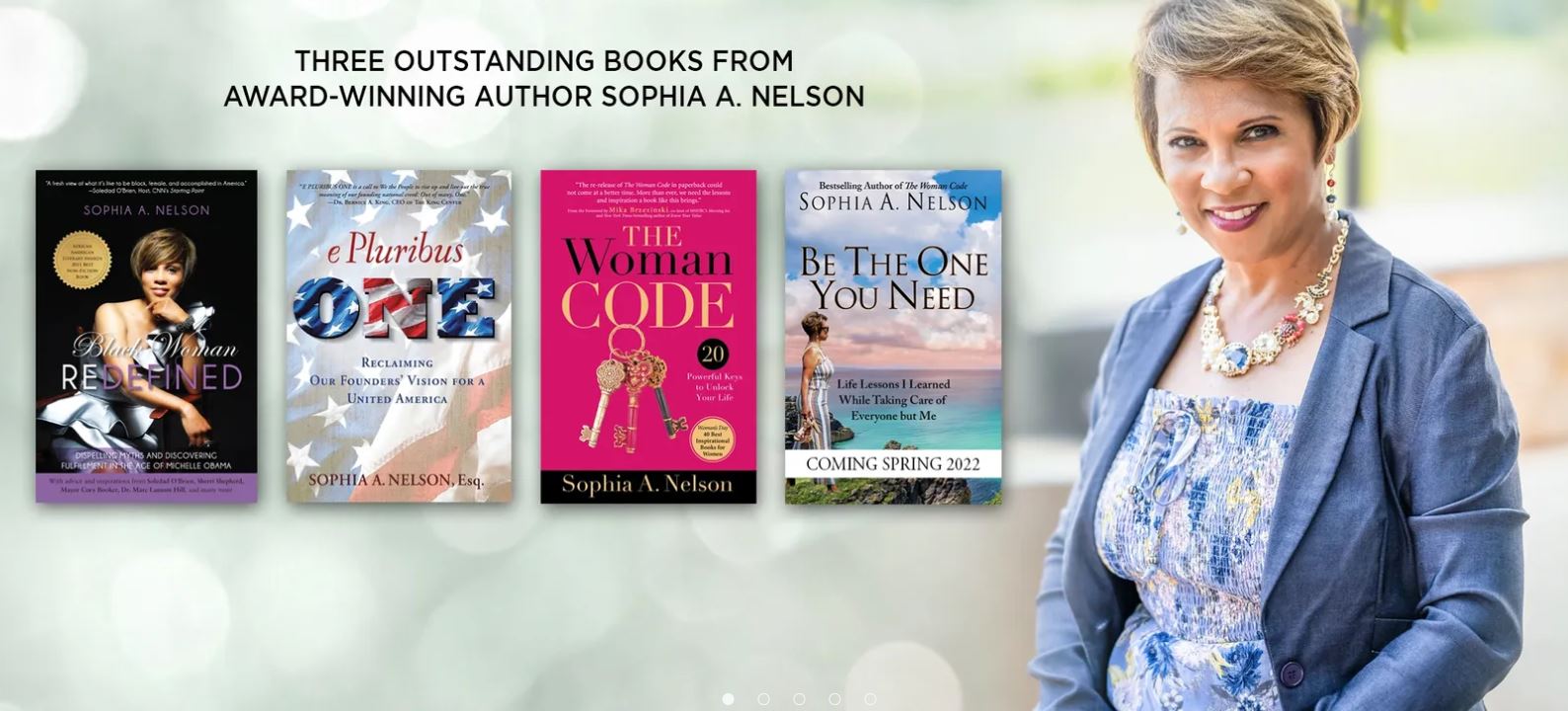 someone new being canceled.
She also said in her video the attacks have caused her to lose opportunities as an academic, which is her livelihood.
She cited one example in which an Ivy League school, which she did not name, disinvited her to speak after Googling her name and learning of the uproar at Christopher Newport University.
"My legal rights, my First Amendment rights, my rights as a human being were violated … by bad acting faculty members who had an agenda," she said.
"…You don't have the right to give me consequences. You aren't my God, you aren't my judge, and you aren't my jury. … I want this reviewed … under the law because somebody has to say, 'Enough, enough, enough.'"
Exhibits with Nelson's complaint includes a copy of a Jan. 2022 letter from a university attorney regarding the controversy in which campus leadership asserts no wrongdoing, arguing that President Trible, while commiserating with campus concerns over Nelson, always defended free speech.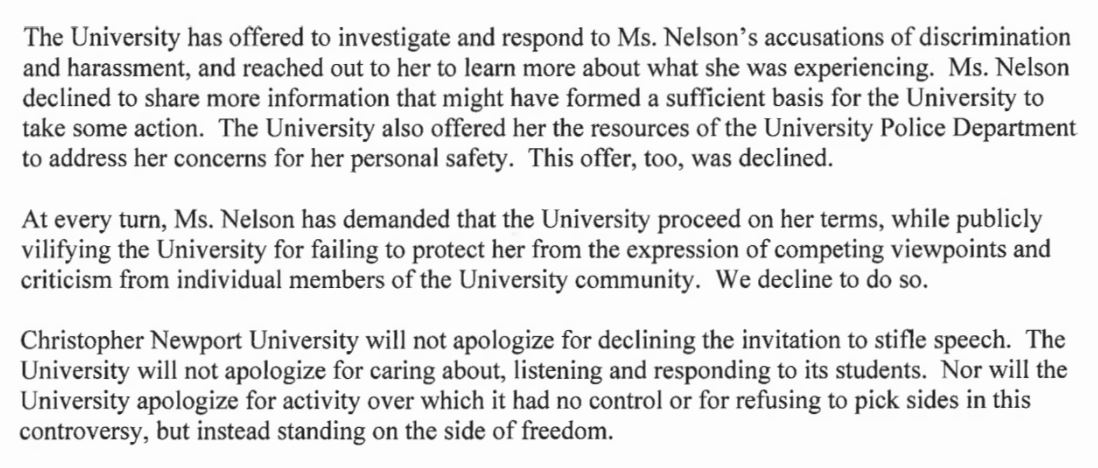 Nelson disputes the accuracy of the memo and said in the video the whole affair is very unfortunate. At one point, she scoffed at the notion of being called racist and at demands that she take a diversity course.
"For those who really did a lot of damage to me, the sad part is I am an ally, I am a woman of color, I've lived discrimination, I understand it, I navigate it every day, whether it's sexism or racism, it's part of being born black and female," Nelson said in her video. "… I have zero issues with the LGBT-plus community."
"… You won this round, but what we all lost was an opportunity to grow together and dialogue and find places we could agree."
A bio posted by the university when Nelson's appointment was announced in Oct. 2021 — a few weeks before the controversial tweet — sung her praises:
Nelson is the author of three books. The latest is, e Pluribus One: Reclaiming Our Founders' Vision for a United America. She is a contributing editor at thegrio.com and a USA TODAY columnist. She also writes for The Washington Post as a featured contributor. Nelson is a regular contributor to NBC News and MSNBC as a legal and political analyst and appears on networks worldwide …

Prior to her work in the media world, Nelson served as an attorney in several senior positions within the government and corporate sector. She was the investigative committee counsel to the House Republican majority on the Government Reform and Oversight Committee, director of congressional and public affairs for the United States Chamber of Commerce, and senior counsel at the nationally ranked law firm of Holland & Knight LLP.
"Our students are fortunate that a leader as prominent as Sophia and with such a gift for communications has agreed to serve the university in this way," College of Arts and Humanities Dean Lori Underwood said at the time.
Editor's note: The article has been updated to include a statement from Christopher Newport University.
MORE: SDSU professor who teaches about racism punished for teaching about racism
IMAGES: YouTube and iamsophianelson.com screenshots
Like The College Fix on Facebook / Follow us on Twitter