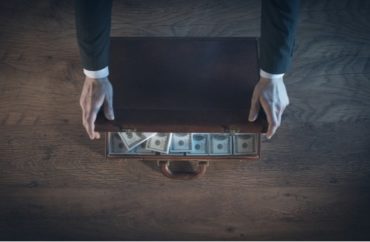 'They can no longer expect to ignore the law with impunity'
An academic group that helped expose the reach of Chinese-funded propaganda in American universities has a message for academia: We told you so.
The Department of Education's new investigation into universities for allegedly hiding foreign funding "is sending a powerful signal to colleges and universities: They can no longer expect to ignore the law with impunity," Rachelle Peterson, policy director of the National Association of Scholars, told The College Fix.
The probes into Georgetown University and Texas A&M concern university assets from governments and companies in China, Russia, Qatar and Saudi Arabia, according to June 13 department letters to the universities obtained by the Associated Press.
The nonprofit Qatar Foundation comprised nearly all the foreign funding reported by Georgetown ($33 million) and all reported by Texas A&M ($6.1 million) last year, according to the AP.
Federal law requires U.S. universities to report contracts and gifts from foreign entities that total $250,000 or more, but past filings from the pair "may not fully capture" that information, the department wrote.
Peterson has done much of the leg work to pull back the veil on Confucius Institutes, funded by China but hosted by American universities, in recent years. The Foundation for Individual Rights in Education has emphasized a related issue: threats to academic freedom from foreign outposts of American universities.
All universities should strive to "make public the conditions of the grants they receive regardless of the location of their source," Sarah McLaughlin, senior program officer for legal and public advocacy, told The Fix when asked about the new federal investigation.
"Members of university communities deserve to know whether their institutions have made agreements that implicate academic freedom and expressive rights," she wrote in an email. "Universities that refuse transparency of their grants do not inspire confidence about what conditions they may entail."
Georgetown Islamic center director defended slavery
Qatar was the top foreign funder of U.S. universities from 2011-2016 at more than $1 billion, outpacing the next nearest country (England) by nearly a quarter-billion dollars, according to Department of Education figures cited by The Daily Caller News Foundation.
The Middle Eastern country, which runs the Al Jazeera television network and has abundant oil reserves, hosts branch campuses for several American universities. Ahmad Dallal, dean of Georgetown's Qatar campus, is an open advocate of Hizbollah, which is listed as a U.S. Foreign Terrorist Organization, and the anti-Israel boycott, divestment and sanctions movement.
Georgetown and Texas A&M don't just share the common thread of operating satellite campuses in Qatar. They've each accepted hundreds of millions of dollars from its government, according to The DCNF: $333 million for Georgetown since 2011 and $225 million for Texas A&M.
Federal regulators told the two they should have reported funding from their branch campuses in Qatar, AP reported.
But they also ordered the pair to identify funding they had received from Huawei or ZTE, two Chinese telecom companies branded as national security threats by U.S. officials. Regulators asked Georgetown specifically to identify funding from Saudi Arabia or Russia, including Russian cybersecurity firm Kaspersky Lab, according to AP.
The DCNF even obtained documents that showed Texas A&M informed the Qatari government that a Texas attorney was seeking public records about its Qatari funding. The university refused to turn over the documents in violation of federal law, and Qatar hired a "politically-connected law firm" that tied up the request.
MORE: Universities with Middle East campuses need 'wake-up' call
The AP report doesn't mention specific questions from regulators about Saudi Arabia. But The DCNF reported that Georgetown received $20 million from a Saudi royal to create its Center for Muslim-Christian Understanding, "which has appropriated social-justice language to push a Saudi-centric agenda to students."
Jonathan A. Brown, a convert to Islam and director of the center, openly defended slavery in a 2017 lecture at an Islamic center in northern Virginia, citing the Prophet Muhammad's ownership of slaves, according to contemporaneous reports.
The lecture was blogged by a student who was horrified by it; the original post has been removed but a version of it remains live on Reddit. Brown's paper on slavery and Islam was archived before its host removed it, and an audio recording of his lecture remains live. The Daily Banter blogged selected excerpts from it.
Should federal investigators come across any reporting violations by Georgetown and Texas A&M, the attorney general could sue to force compliance and recover the costs of litigation, according to the AP.
Texas A&M declined to comment on the investigation to The Fix except to say it is "fully cooperating with the inquiry." Georgetown did not respond to a request for comment but told AP it "provides all information as required by the Department of Education every six months."
Several American colleges "have courted and sought major foreign donors and accepted foreign gifts with open arms, yet failed to follow the basic transparency requirements," Peterson, the NAS scholar and Confucius Institute expert, told The Fix in an email:
As a result, they have prevented the American public from having the full picture of foreign funding of America's colleges and universities. This is particularly alarming because some of those gifts come with strings attached, compromising academic and jeopardizing the integrity of students' education.
Based in America, subject to Chinese law and 'national interests'
Georgetown and Texas A&M are far from the only universities accused of failing to report foreign funding.
Chinese funding has been a yearslong concern for both federal lawmakers and groups such as NAS, FIRE and the American Association of University Professors.
In spite of federal law, a Senate Homeland Security subcommittee investigation found that nearly 70 percent of U.S. schools that received more than $250,000 from the Chinese government failed to report the assets accurately.
Hanban, an agency of the Chinese Ministry of Education, had been allocating millions for Confucius Institutes across U.S. colleges campuses, the February report said. In single-party fashion, it has historically had the upper hand in staffing Chinese educational endeavors abroad by cherry-picking instructors for institutes at American universities.
An array of universities has allowed the Chinese agency to "vet and propose a pool of candidates from which they hired Confucius Institute teachers," Peterson said.
A spokesperson for AAUP told The Fix in a phone call that "a dictator directing an [academic] institute" on any campus is "problematic." The academic group characterized Confucius Institutes "as an arm of the Chinese state" that is "allowed to ignore academic freedom" in a press release.
The Government Accountability Office testified before the subcommittee on U.S.-based Confucius Institutes and satellite campuses in China. It cited multiple reports that Confucius Institute directors "effectively screen out candidates based on inappropriate criteria, such as political or religious affiliation," during the hiring process.
MORE: 2 in 3 colleges with Confucius Institutes broke the law
Once hired, instructors are still obliged to the laws of Beijing regardless of where they work. Hanban requires them not to "engage in activities detrimental to national interests."
Since 2006, Hanban has spent $2 billion on Confucius Institutes worldwide, the Senate subcommittee found. $158 million of that figure has gone to U.S.-based Confucius Institutes since 2011.
In contrast, American cultural institutes for students studying abroad have faced suppression of speech, according to the Senate subcommittee. The State Department created American Cultural Centers in China to preserve constitutional ideals, yet from the jump, the Chinese government sought to hinder the programs' fruition.
The report said "7 of 29 ACCs never opened despite receiving funding and the State Department stopped funding the program altogether in 2018." Both Ministry of Education and provincial officials "routinely restricted the movement of U.S. diplomats seeking to attend and speak at conferences and public events" and even visit ACCs themselves, sometimes "days before an event was to take place."
A subtitle in the report emphasizes: "The State Department Does Not Exert the Same Control over American Cultural Centers as the Chinese Government Exerts over Confucius Institutes."
The GAO report found that less than half of American university campuses in China received uncensored access to the internet. Websites and search engines such as Google, prominent publications like The New York Times, and major social media outlets are blocked.
"FIRE is deeply concerned whenever any students studying abroad encounter punishment for engaging in behavior or expression that would be protected within the United States," McLaughlin told The Fix. "It's incredibly important that universities warn students in their study abroad programs of the legal realities they must prepare for."
MORE: UMass-Boston demands $1,500 to share Confucius Institute emails
IMAGE: Stokkete/Shutterstock
Like The College Fix on Facebook / Follow us on Twitter