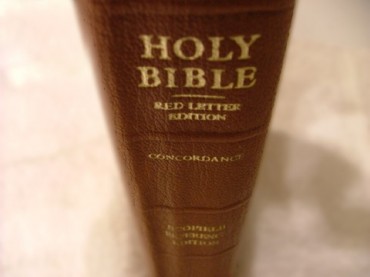 Fox News reports something that will probably make you sick if you care about the future of our military, or about–I dunno–little Constitutional rights like free speech:
The Air Force Academy removed a Bible verse posted on a cadet's whiteboard after it determined the posting had offended other cadets, a spokesman for the academy said.

The cadet wrote the passage on the whiteboard posted outside his room. "I have been crucified with Christ therefore I no longer live, but Christ lives in me," the verse from Galatians read.

Mikey Weinstein, director of the Military Religious Freedom Foundation, told me 29 cadets and four faculty and staff members contacted his organization to complain about the Christian passage.

"Had it been in his room – not a problem," Weinstein told me. "It's not about the belief. It's about the time, the place and the manner."

He said the Bible verse on the cadet's personal whiteboard created a hostile environment at the academy…
So when a student hangs a Bible verse on the outside of his door, that's now considered a "hostile environment"?
The Air Force cadets and faculty who complained about a simple Bible verse are either the biggest wimps in history, or else Christianity is simply no longer welcome at the Air Force academy.
I wonder if today's Air Force academy leaders are familiar with the First Amendment?
Probably not.
Mind you, the supreme sensitivity to religion these folks suffer from didn't stop the Air Force Academy from building a special worship area for pagans, wiccans, and druids, on campus a few years ago.
Sounds like a bunch of hypocrites to me.
Why do I get the feeling that our military academies are going down hill in quality faster than a gold medalist on greased skis–eagerly transforming into cesspools full of politically correct B.S.?
Image: KnowHimOnline.Flickr1
Like The College Fix on Facebook / Follow us on Twitter