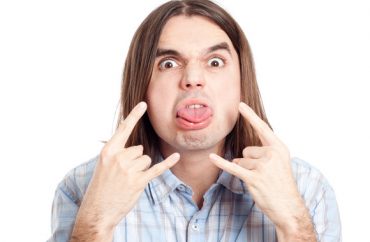 No specific definition of what is punishable
Want to know what you can say without getting punished at Alabama A&M University?
Anything that doesn't bring "shame" to the historically black public university. No one could be confused by that!
Alabama A&M threatens penalties including "indefinite suspension" under a "moral turpitude" clause in its student code of contact, highlighted by the Foundation for Individual Rights in Education as its "speech code of the month" for April.
Here's the exact clause, last reviewed by FIRE a year ago, placed between rules on littering and parking violations (?):
2.55 MORAL TURPITUDE. An act of baseness, vileness or depravity which brings shame to the University and is in contradiction to the letter and spirit of the University's Code of Conduct, good citizenship and ethics.

SANCTION: Fine; Loss of Privileges; Interim Suspension; Suspension; Indefinite Suspension
The university doesn't even cabin its threatened punishment to "crimes" but rather leaves students to determine what the administration considers base, vile or depraved, including subjectively offensive speech, FIRE program officer Laura Beltz says in a post Wednesday.
They should fear the worst, given how other public universities have responded to purportedly vile speech, according to Beltz.
The University of California-Davis allegedly investigated a professor in response to widespread outrage over his anti-police tweets before affirming his speech was protected. Indiana University-Kokomo also "abruptly" removed a statue last summer that resembled "female genitalia" in response to alleged complaints, but then put it back up after FIRE warned it the action was likely unconstitutional.
Alabama A&M's policy language, even if never enforced, "may have a chilling effect on speech," Beltz says:
After all, when students see they can be thrown out of school for something so subjective, they're likely to temper their speech, rather than press their luck. This is an unacceptable outcome at a public institution like Alabama A&M. Instead, the university must revise this and its other speech codes to meet First Amendment standards.
MORE: Don't send that Valentine – it might violate the sexual harassment policy
IMAGE: Jan Mika/Shutterstock
Like The College Fix on Facebook / Follow us on Twitter