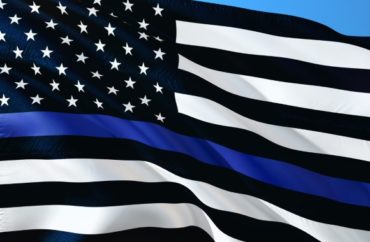 UPDATED
Pressure is mounting to fire a UC Davis professor who has argued cops "need to be killed," with a California lawmaker spearheading a petition effort that has collected some 10,000 signatures calling for the termination of English Professor Joshua Clover.
Republican state Assemblyman James Gallagher hosted a press conference last Wednesday at the university alongside the president of the California Police Chiefs Association and the widow of a slain police officer to hold administrators' feet to the fire and present his petition.
"Calling for the death of police officers, or any group for that matter, is not a viewpoint … it's an invitation to mass murder is what it is," said Gallagher, an alumnus of UC Davis. "And that is why incitements to violence are not protected speech under the First Amendment."
He went on to cite the fact that in January the community mourned the murder of Davis police officer Natalie Corona, who was working in the line of duty when she was killed ambush-style. He said rhetoric needs to be more positive instead of its current state of "divisiveness and vitriol" and the apparent support of some for racial strife and rioting.
"UC Davis has the ability by taking action and by firing this professor to say that's no longer tolerated, we are bringing the dialogue up, we are coming together, we are going to bring people together, to get through these challenging issues, and we are no longer going to allow for calls of violence," Gallagher said.
At issue are comments made by Clover in a 2015 interview with SF Weekly in which he reportedly said in answer to the question "what's wrong with society today" that "people think that cops need to be reformed. They need to be killed."
In the wake of Corona's murder, these comments as well as Clover's old tweets on cop killing also become the subject of debate. Reported in the Aggie campus newspaper, those tweets included:
"I am thankful that every living cop will one day be dead, some by their own hand, some by others, too many of old age #letsnotmakemore" — tweeted on Nov. 27, 2014.

"I mean, it's easier to shoot cops when their backs are turned, no?" — tweeted on Dec. 27, 2014.
CBS Sacramento reported in February that when word spread of his comments, Clover seemed unapologetic: "Clover declined to comment on his controversial views, but he did tell CBS13, 'On the day that police have as much to fear from literature professors as Black kids do from police, I will definitely have a statement.'"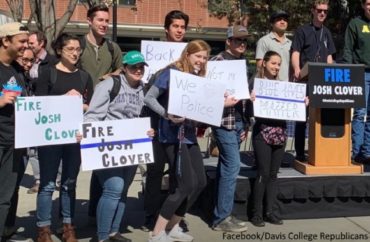 UC Davis also released a statement at the time condemning Clover: "The UC Davis administration condemns the statement of Professor Clover to which you refer. It does not reflect our institutional values, and we find it unconscionable that anyone would condone much less appear to advocate murder."
Earlier this month, CBS Sacramento reported Clover's comments are now under review by administration, noting "Chancellor Gary May has asked the campus legal team to review the English professor Joshua Clover's conduct and provide advice."
However, the Foundation for Individual Rights in Education reports there's been conflicting information on this, and Clover is not under investigation, they were told by the university's attorney.
"Fortunately, Chief Campus Counsel Michael F. Sweeney notified FIRE yesterday by email that UC Davis has not launched an investigation into Clover's tweets. Sweeney also reaffirmed the university's commitment to free expression and its faculty members' First Amendment rights," FIRE reports.
And "no official action" has been taken by the university, reports the Aggie.
During the press conference, Ron Lawrence, president of the California Police Chiefs Association, also addressed the controversy, the Aggie reports.
"Unfortunately in the United States, violence against police officers has been on the rise," Lawrence said. "We lost 144 police officers in the line of duty last year. That's a 14 percent increase from the year before. … Mr. Clover, if you're listening to this, you should hold yourself accountable and do the right thing — resign from your position immediately."
Meanwhile, on Friday, the Davis College Republicans hosted a "Fire Josh Clover: A Rally Against Violence" demonstration on campus.
"Advocating for violence against anyone has no place on our campus," the College Republicans stated on their event page. " … It's time to take a stand against real bigotry on our campus."
But counter-protesters attended the rally with signs such as "College Republicans hate free speech — Change my mind" and "I stand with Clover," FIRE reports.
The free speech group has also denounced a House Resolution penned by Gallagher calling on UC Davis to terminate Clover.
"Legislators must reject this resolution as their duty to uphold the constitution cannot be squared with this blatantly unconstitutional effort to pressure a public institution to fire a faculty member for protected speech. It should go without saying, but if the Assembly 'supports free speech and the right of professors and students to express different ideas,' it must oppose this resolution, not support it," FIRE stated.
Editor's note: This posted has been updated to include concerns expressed by the Foundation for Individual Rights in Education.
MORE: Ethnic students at UC Davis protest 'Thin Blue Line' flag
IMAGE: Borka Kiss / Shutterstock
Like The College Fix on Facebook / Follow us on Twitter