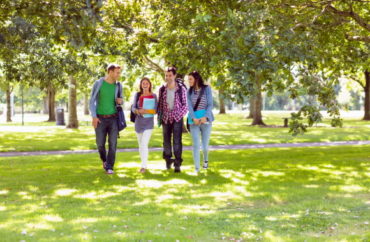 Also 61 percent at Wellesley and 70 percent at Smith — which are women's colleges — identify as LGBTQ
Almost 40 percent of students identify as LGBTQ at liberal arts colleges, according to a report published by the Center for the Study of Partisanship and Ideology, a center-right think tank that researches partisanship in academic and scientific fields.
"Liberal arts colleges are the least politically diverse. Many have almost no conservatives, and thus very low viewpoint diversity. But they have high sexual diversity, at nearly 40 percent LGBT," stated the report, titled "Diverse and Divided: A Political Demography of American Elite Students."
The analyzed data also reveals that overall 23 percent of U.S. college students identify as LGBTQ—a number similar to a Gallup poll which found 20.8 percent of Generation Z identified as LGBT in February 2022.
In contrast, the national average of Americans identifying as LGBT in the Gallup poll was 7.1 percent.
The report reflects numbers culled by the Foundation for Individual Rights and Expression's large scale, nationwide campus expression surveys from 2020 and 2021.
Eric Kaufmann, a professor of politics at Birkbeck College and Center for the Study of Partisanship and Ideology research fellow, used FIRE's survey data from 57,000 undergraduates at 159 top U.S. universities to assess the demographics.
"The trend toward LGBT identification among young people, which has seen a threefold expansion since 2008, encompasses both university and non-university young people, white as well as minority," Kaufmann told The College Fix in an email December 14.
"That said, those who identify as 'very liberal' are substantially more likely to say they are LGBT and white left-wing activists are extremely likely to do so, with some 70% of very liberal women who support shouting down offensive speakers identifying as LGBT," Kaufmann said.
In the report, Kaufmann linked the trend of higher LGBTQ student populations at liberal arts colleges to their substantial liberal and female demographics, while also stating that these factors alone could not fully explain the cause.
Abigial Shrier, author of "Irreversible Damage: The Transgender Craze Seducing Our Daughters," could not be reached by The College Fix for comment.
The report notes that a majority of students identify as LGBTQ at three out of the 159 campuses: 51 percent at Oberlin, 61 percent at Wellesley and 70 percent at Smith College, with a 6 percent margin of error. Out of the three liberal arts colleges, the latter two are notably for women only.
"These are high numbers. However it's important to remember that much of this lies in female bisexuality, and that over 60 percent of female bisexuals report only male sexual partners in the past five years. So much of what is going on concerns people with intermittent same-sex attraction self-labelling as LGBT," Kaufmann said in his email to The Fix.
The percentages signal a rise in LGBTQ students for at least Wellesley, which found 38 percent of students identifying as a sexual orientation other than heterosexual in 2016. When compared to CSPI data, a 23 percent increase occurred in about four to five years.
Regarding Smith College, informal commentary since 2018 put the LGBTQ population estimate at 30 to 50 percent. A 2021 piece in a student-run newspaper by a self-called "queer Smithie" stated the following about their experience:
"I am a queer student at Smith College. I only came out publicly after entering college and the queer community I found at Smith was a huge reason for that. Had I gone to a co-ed college, I honestly don't know if I would have come out. Our queer community allowed me to learn about and grow comfortable with my own sexual identity. This is also a story I hear again and again from my peers at this college: a story of growth, hope and safety due to an environment that fosters inclusivity."
An article from 2021 notes that "gay and gender nonconforming students might gravitate to Smith because of its reputation as a place that welcomes them, a fact reflected in the college's policy on transgender admissions." Any person who self-identifies as a woman may apply to Smith, according to the college's admission policies.
On the other end of the spectrum, Kaufmann listed several schools with the least LGBTQ student populations. BYU, Utah State, Bucknell, University of Miami, Notre Dame and Clemson all contained between 10 to 15 percent.
Even among the universities with the smallest LGBTQ representation, the report found that no school dropped below 10 percent. The colleges all trended above the national average of 7.1 percent of Americans identifying as LGBT in a Gallup poll from February 2022.
MORE: Average HS male runner becomes top-ranked female after gender transition
IMAGE": Wave Break Media / Shutterstock
Like The College Fix on Facebook / Follow us on Twitter