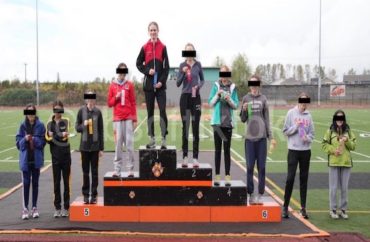 UPDATED
'Deprives other girls' teams of the chance to compete at State'
A Washington State high school student who, as a male, ranked 72nd in boys' track, vaulted up to the number-one spot as a female following gender transition.
Libs of Tik Tok reports that Seattle Academy's Aspen Hoffman made this incredible improvement between her freshman and sophomore years.
During the former, Hoffman finished 72nd in the cross-country finals; in the latter, the athlete finished first and broke Seattle Academy's girls' 5,000 meter record.
Hoffman's first-place time in the girls' finals would have gotten the transgender athlete 48th place in the boys' division.
Libs of Tik Tok spoke to some coaches and several parents who aren't very happy with the situation.
"[A]llowing [Hoffman] to compete against biological girls deprives other girls' teams of the chance to compete at State (which is a big deal)," a coach in the Emerald Sound Conference said.
Another coach said "This is just about fairness in female sports. It would be just as insane if we made a girl who's transitioning to be a boy compete against the girls."
The father of a female competitor said "[Hoffman] is larger than any of the girls, and shamelessly takes 1st place on the podium. Now my daughter is competing against a male for scholarships. And we can't even say anything. You can't even approach it in a nice way without being labeled a hateful bigot. You will get threats against you."
MORE: Transgender professor: Excluding men from women's sports is like excluding black women
Another parent asked "What about [Hoffman's] teammate that was bumped off the varsity? These girls are losing their opportunity to not just get to state but maybe earn a scholarship."
Washington State's guidelines for transgender athletes have evolved considerably over the last 15 years. Initially they required athletes to undergo surgery and two years of hormone therapy; eleven years later, the surgery mandate was lifted and only "documented testosterone suppression therapy" was required.
But last year, "disregard[ing] all scientific reasoning," the only thing the state required of a transgender athlete is that they "consistently express" a gender.
Even more troubling to students and parents, WIAA eliminated aggrieved students and competing schools' right to even question the participation of a trans student in female sports.

The rationale behind the changes was outlined in the Washington Interscholastic Activities Association's 2021 Gender Diversity Toolkit where they inaccurately argue trans athletes on teams have "not been shown to diminish opportunities for others" and that there are "no competitive advantages."
US Women's Soccer star Megan Rapinoe took a different tack earlier this year saying "We're talking about people's lives. I'm sorry, your kid's high school volleyball team just isn't that important. It's not more important than any one kid's life."
Rapinoe is referring to the higher suicide rate among transgender individuals. In other words, as the University of Idaho student paper put it, "whether or not a team wins or loses, human lives are more important than the biological sex of team members."
Editor's note: The article has been amended.
MORE: Prof: Transgender swimmer Lia Thomas a 'trailblazer' like Jackie Robinson
IMAGE: CeCe / Twitter screencap
Like The College Fix on Facebook / Follow us on Twitter