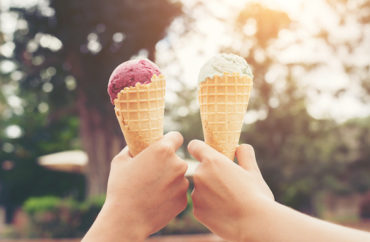 #GetTheScoop tour engages in 'myth busting' about high tuition, low acceptance rates
Alumni from the University of Wisconsin are engaging in a unique public relations tour to bolster the school's image, driving around the state in an ice cream van in the hopes of educating people about the university's merits.
The #GetTheScoop tour "is traveling to local events throughout the state to challenge common accessibility and affordability assumptions about UW Madison," Inside Higher Ed reports.
The dessert-based tour was necessary, the alumni believed, because the University of Wisconsin has "earned a reputation among some Wisconsinites for being expensive, liberal and hard to get into." That's a myth, say the alumni—and one that they're hoping to "bust."
The alumni "generally have it set up where the truck is scooping out ice cream, and next to the truck we have a tent set up, and that's where we do our myth busting," Tod Pritchard, a spokesman for the Wisconsin Alumni Organization, told Higher Ed.
From the report:
One of those myths is that in-state students have a harder time getting admitted to the university than out-of-state students. The UW Foundation polled 648 Wisconsin adults and found that 39 percent believe that less than half of the students who apply are accepted, and 22 percent believe that only a quarter are accepted. In reality, two-thirds of in-state applicants are admitted, which is higher than the university's general acceptance rate of 53.8 percent.

Affordability was also on the minds of aspiring Badgers and their families. Tuition and fees for the 2017-18 academic year was $10,534 — higher than at any other Wisconsin university, but far less than out-of-state costs for other Big 10 schools, which charge anywhere from $25,000 to $52,000 per year. In an effort to make sure the university is affordable, UW Madison in February announced its Bucky's Tuition Promise program, which guarantees free tuition to any admitted student whose family earns less than $56,000.

"Sometimes students don't apply because they think they won't get in, or they think they won't be able to afford it," Pritchard said.
The alumni have "served 1,953 scoops of ice cream so far," with the ice cream being produced on the University of Wisconsin campus.
MORE: University of Wisconsin asks applicants where and when their parents voted last
IMAGE: crazystocker / Shutterstock.com
Like The College Fix on Facebook / Follow us on Twitter