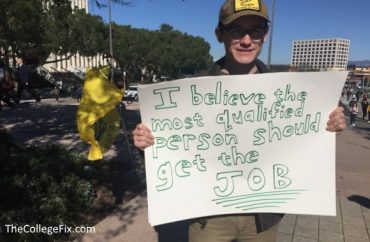 IRVINE, Calif. — About a half-dozen students and Republican activists held a protest at UC Irvine on Friday to denounce the University of California system's claim that phrases such as "America is the land of opportunity" and "there is only one race — the human race" are microaggressions.
The "Microaggress-in" aimed to "demonstrate the ridiculousness of the microaggression policy" and demand that UC system President Janet Napolitano "retract her statement on microaggressions and redouble her commitment to intellectual and academic freedom."
Phrases such as "America is a melting pot," "I believe the most qualified person should get the job," "Everyone can succeed in this society if they work hard enough," "Affirmative action is racist" and others have officially been deemed microaggressions by the UC system since at least 2015.
The protesters argued those statements are accurate and truthful, and wrote them on large white poster boards, holding them aloft to passersby on campus Friday afternoon during their two-hour demonstration.
While some students confronted the group in apparent anger, many students also engaged the protesters in discussion.
"Overall, it went pretty well," Jason Garshfield, a recent UCSB grad and free speech activist, told The College Fix. "We started a lot of interesting discussions, and I think we helped raise awareness about the silliness of the current institutional attitude towards microaggressions."
"There were a few people who came up to us and were very sarcastic and confrontational, but so many more who were thoughtful and genuinely interested in hearing what we had to say."
Still, tension arose at one point as the group was confronted by UC Irvive student Jose Santacruz, who called the demonstration an "act of assault" against people of color at the university.
"All you do is promote fallacies and anger," he told the group. "Do you honestly have nothing better to do than to come out here and spread hate?"
Taking issue with one sign that stated "reverse racism is still racism," Santacruz said "race was constructed by white people, so how can you fall victim to your own creation?"
UCI College Republicans president Ariana Rowlands rebutted his argument by saying "I am not even full white, I am half-Mexican, and my mom still had to go through a lot of hard work to get to where she is today."
Santacruz replied: "You are literally a nazi and a white nationalist, let's call a spade a spade."
At one point, a group of black students stood by the protest and chastised the Republican students for their opposition to microaggressions. They prodded by yelling: "The United States was built on violence, the Boston Tea Party was violence."
Faculty also passed by the protest and took photographs and appeared to scoff. One professor looked at the signs, took a picture, then laughed.
MORE: California professors instructed not to say 'America is the land of opportunity'
Like The College Fix on Facebook / Follow us on Twitter