A research study recently found that the American Economic Association, "the most influential professional association of economists in the United States," is dominated by Democrats.
The study, conducted by Mitchell Langbert and published at Econ Journal Watch, looked at political registrations and contributions of 6,066 academic contributors to and members of the association.
It found that the leadership of the American Economic Association is mostly run by Democrats.
"The AEA Boards of Editors, who oversee the journals, are 29:1 Democratic:Republican in voter registrations and 47:1 in political contributors," Langbert reported in the study. "The AEA officers and editors are 8:1 in voter registrations and 67:1 in political contributors, while the authors they publish are 10:1 in registrations and 49:1 in political contributions."
Langbert makes a distinction between the members of American Economic Association, which are open to any political affiliation, and the players of the association, who are "officers, editors, authors, book reviewers, and acknowledges (those thanked in published acknowledgments)."
The players are nearly devoid of Republicans.
According to the study, this impacts conservative economists because "publication in highly ranked journals is a prerequisite to tenure" and "AEA journals are three of the top 10 and five of the top 20."
The College Fix reached out to Langbert, who explained the weight of his research.
He said that the high ranks in the professoriate demand publications and the large number of publications by Democrats gives them higher levels of jobs in policy.
"Economics is important because it impacts policy making," Langbert said. "The one party control of the AEA is a strategic pivot by which a single party can control huge personnel that get picked [for] jobs in government. This is a huge implication for which party gets more influence day to day."
"In a field like economics, if you look carefully at it, conservatives are excluded from the top places and in influence on policy making," he said. "As you move up the status level within AEA, it is almost exclusively Democratic which has ramifications for the role of economics as a science."
He argues in a news release on his study that the "AEA is a plantation in which about one-quarter of those with the interest and ability to enter the economics field are allowed to join, but few of those are published or elevated to editorial positions."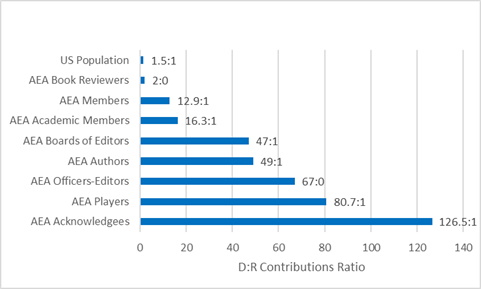 Langbert said he was originally inspired to conduct his research because a past study four years ago examined the extreme ideological diversity and it was time to reexamine the topic.
His study took about six months to conduct and he used the FEC database of contributions and looked up voter registrations on the Aristotle database.
The American Economic Association declined to comment to The College Fix.
Libertarian economics Professor Walter Block at Loyola University New Orleans told The Fix that "Langbert is very accurate in his analysis and … nails it, insofar as the economics profession is concerned."
Block said he believes there are so few conservatives in AEA because "most intellectuals are left-bias and the members of AEA are intellectuals."
Block said a solution to this could be for universities to hire more conservative and libertarian professors.
"This might be imposed by the boards of directors of universities," Block said. " We need affirmative action, ideological diversity."
The College Fix also reached out to economics Professor Evan Osborne at Wright State University for comment as well.
"To the extent that Democrats are overrepresented," he said, "I think it is because they are more likely to be found in academia rather than in private think tanks and so on (AEA leaders and especially journal editors almost always come from academia), and perhaps Democrats, as believers in activist government, are naturally inclined to seek out leadership positions in organizations like these."
MORE: Economics professor barred from teaching class critical of Marxism
IMAGE: Angela Cini / Shutterstock
Like The College Fix on Facebook / Follow us on Twitter