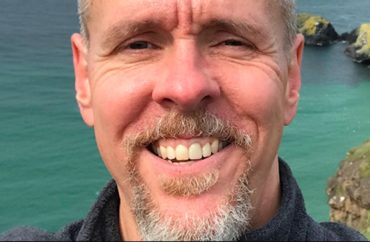 'I apologize for the damage I have caused … I hope to redeem myself'
The president of the American Historical Association recently attached an apology to a recent article in which he criticized certain narratives about slavery, including Nikole Hannah-Jones' 1619 Project.
Highlighted with excerpts such as "This new history often ignores the values and mores of people in their own times" and "This is not history; it is dilettantism," James Sweet's piece "Is History History?" offers up critiques of political correctness in history with which regular College Fix readers should be well familiar.
For example, Sweet mentions a trip to an old slave depot in the country of Ghana where "American influence was everywhere." The tour's guide "claimed that 'Ghanaians' sent their 'servants' into chattel slavery unknowingly [and] made no reference to warfare or Indigenous slavery, histories that interrupt assumptions of ancestral connection between modern-day Ghanaians and visitors from the diaspora."
He also notes how the film The Woman King suggests the west African kingdom of Dahomey was opposed to the European slave trade — but in fact "promoted it."
Lest you think Sweet is merely a disgruntled-with-PC conservative, his piece also hits folks like Supreme Court Justices Clarence Thomas and Samuel Alito as examples of those who use history as "an evidentiary grab bag to articulate their political positions" (the former in the NYSRPA v. Bruen gun case, and the latter in Dobbs v. Jackson).
"The present has been creeping up on our discipline for a long time," Sweet concludes. "Doing history with integrity requires us to interpret elements of the past not through the optics of the present but within the worlds of our historical actors […] When we foreshorten or shape history to justify rather than inform contemporary political positions, we not only undermine the discipline but threaten its very integrity."
MORE: White people should not teach about black history, Harvard newspaper editor opines
Nevertheless, just two days later Sweet added an apology to the top of his piece noting he was sorry how he "alienated some of [his] Black colleagues and friends":
My September Perspectives on History column has generated anger and dismay among many of our colleagues and members. I take full responsibility that it did not convey what I intended and for the harm that it has caused. I had hoped to open a conversation on how we "do" history in our current politically charged environment. Instead, I foreclosed this conversation for many members, causing harm to colleagues, the discipline, and the Association. …

I am deeply sorry. In my clumsy efforts to draw attention to methodological flaws in teleological presentism, I left the impression that questions posed from absence, grief, memory, and resilience somehow matter less than those posed from positions of power. This absolutely is not true. It wasn't my intention to leave that impression, but my provocation completely missed the mark.
Sweet concluded by saying he hopes to "redeem" himself and that he is "learning and listening."
Seemingly missing the irony, on Saturday the AHA said it was "appalled" by the social media reaction to Sweet's apology, writing on Twitter that "a conversation about history has been invaded by trolls uninterested in civil discourse."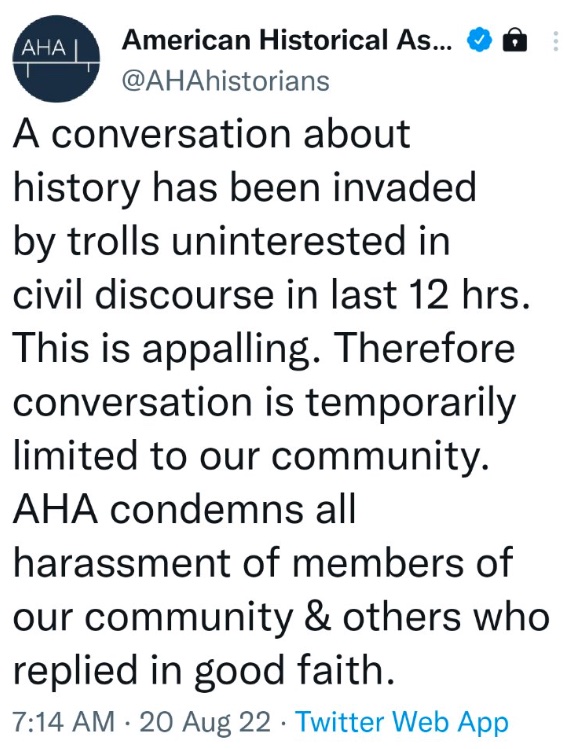 MORE: Students to learn U.S. history through lenses of equity, critical theory
IMAGES: David A. Bell, Omri Ceren / Twitter screencaps
Like The College Fix on Facebook / Follow us on Twitter