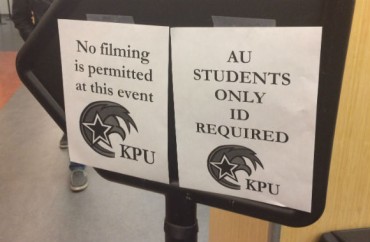 ANALYSIS
Black Lives Matter co-founder Patrisse Cullors started a movement with a hashtag, and she praises technology for BLM's rise.
She's even developing a new social-media platform so the movement isn't reliant on Twitter.
Yet students' own technology was restricted during an American University event Wednesday night where Cullors addressed hundreds of students in a packed room.
The Kennedy Political Union, the student organization that hosted the event, imposed a no-filming rule after explicitly inviting "student media" to cover Cullors' speech and even reserving seats for reporters.
When I asked about filming at the event and pointed out that I'm an AU student, the club warned me in a Facebook message: "You will not be able to film the event."
They weren't kidding: Waiting to enter the room, the girl in front of me with a DSLR camera was ordered to put it in her backpack as a condition of attending Cullors' talk.
RELATED: Assault and Title IX claims filed against Mizzou administrator, professor for attacking journalists
Organizers may have had reason to fear that a moment from Cullors' talk would go viral. In her opening remarks, Cullors addressed a rumor that activists who disagree with her may be present among the crowd.
A permeable tension set over the room as Cullors drew attention to the potential for dissenters, but she explained that she would encourage those people to speak out in Q&A.
It turned out none of them did, despite the presence of several conservative activists in the room.
I was called on for the final question of Q&A, which ended with several students waiting to speak, and asked how technology fits into the vision of BLM, particularly around interactions with police.
"Yes, everybody should be filming the police," Cullors responded, elaborating that technology is a part of her vision for the BLM movement.
RELATED: Stay out of 'safe spaces' at protests to show 'cultural sensitivity,' race educator tells journalists
The irony of my question and her answer was that video was off-limits at the talk itself. Despite being a journalist with several professional video cameras at my disposal, I was only able to clandestinely record her answer using a cellphone in a shirt pocket.
"Everyone should be filming the police." #KPUCullors

— AUSG KPU (@AUSGKPU) January 14, 2016
Stop demanding 'a black male patriarch like MLK'
During her talk, Cullors advocated that students join BLM. She drew contrast between the leaders in the civil rights movement and those she wants leading her movement.
"People want a black male patriarch like MLK," Cullors said. "But instead you've got a black pregnant girl on stage in front of you, and her two black girl homies," referring to co-founders Opal Tometi and Alicia Garza, who did not attend the talk.
The trio began the movement when Garza used the phrase "Black lives matter" in response to the acquittal of George Zimmerman in the shooting of Trayvon Martin. When Cullors turned it into a hashtag, the #BlackLivesMatter movement was born.
We are officially SOLD OUT! However, the audio will be played in MGC, so stop by and listen to #KPUCullors! pic.twitter.com/qiMRxnijWZ

— AUSG KPU (@AUSGKPU) January 14, 2016
In addition to Martin Luther King Jr., Cullors told the crowd she is skeptical of President Barack Obama's policies as they relate to minorities. Describing his presidency as "Eh, disappointing," she elaborated that "This administration has waged war against the Arab world."
While she went on to criticize Obama's history including mass deportation and what she sees as limited progress in other social issues, Cullors did offer the president some consolation. "Obama could have done better, but we have to remember what country we live in, a capitalist country."
Explaining that she believes the issues facing minorities are systematic, she summarized that "The truth of the matter is that many of us live in hell."
RELATED: Mizzou student government VP is 'tired of hearing' about First Amendment protections
Like The College Fix on Facebook / Follow us on Twitter
IMAGES: Alejandro Alvarez, Facebook screenshot