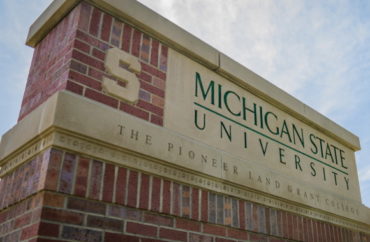 Michigan State University, which has raised tuition or made other price increases for the last three consecutive years, has begun construction on a $38 million Multicultural Unity Center.
The center, which will include an elaborate amphitheater and a special "Dreamer" division for undocumented students, has been billed as a way to create a "safe space" for students of color enrolled at the public university.
"The MSU Multicultural Center must become a safe space so students can be their true authentic selves," Marcus McDaniel Jr., president of MSU's Black Students' Alliance, said in February in a university news release. "The building will … create a sense of belonging and a home away from home for marginalized communities."
The Lansing State Journal, which reported that construction broke ground Friday, noted students and staff "for decades have advocated for a standalone multicultural center, which would create designated spaces for classes and forums and a safe space for minority students."
The Dreamer Center "will provide a safe and welcoming space where those of mixed-immigration status can connect with peers and receive support, mental health resources, financial aid and legal guidance in [a] private environment," the university reported.
The amphitheater will face the Red Cedar River, where "students will be able to enjoy performances of music, dance, theater and other forms of cultural expression. In addition, an Indigenous-inspired ceremonial firepit featuring natural elements will expand opportunities for all student groups."
Also on tap are offices, a living room, a community kitchen, and an art gallery wall.
According to the Lansing State Journal, white students make up 65 percent of the student body. The campus student body is also 8.7 percent international, 7.6 percent Asian, 6.5 percent black, and 6.1 percent Latino.
The major construction project comes amid three years of tuition and other cost increases for the 2021-22, 2022-23 and 2023-24 school years.
Most recently, on Friday — the same day the school broke ground on the unity center — Michigan State University hiked room and board rates nearly 7 percent for incoming freshmen, the Journal reported.
MORE: Michigan State inclusive language guide: 'bunny,' 'gift,' 'America' are offensive
IMAGE: University of College / Shutterstock
Like The College Fix on Facebook / Follow us on Twitter