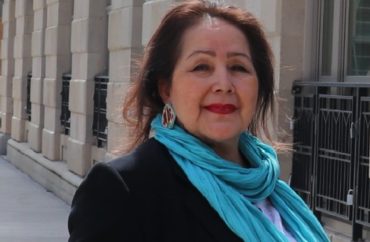 Sculptor will provide mental health services to students
Students at Syracuse University continue to have access to an indigenous healer who burns sage and interprets dreams, thanks to a successful activism campaign.
Diane Schenandoah does not have any formal medical training to assist students, instead she has multiple art degrees, including one in three-dimensional art from Syracuse University. She currently is hosting a series of "meditation" sessions along with her monthly "moon sessions," according to the university.
The professional sculptor and singer brings her "Intuitive Energy Work" to campus, according to her bio.
"My work is grounded in my culture and traditional Haudenosaunee teachings," she stated in her bio.
She also has experience with "hands-on energy work, art therapy, tuning forks, acupressure, dream interpretations and self-empowerment."
The College Fix reached out multiple times in the past two weeks to both the university and Schenandoah to ask about the evidence for these Indigenous practices and her qualifications, but neither responded. She has worked at the university for a year now.
Schenandoah (pictured) also has experience in "smudging," according to Inside Higher Ed.
"Smudging" involves burning sage to get rid of "negative energy."
"One of the primary benefits of smudging with sage is its ability to cleanse a person or space of negative energy," states Tribal Trade, a website about Native American practices.
"In situations where we experience spiritual energy that we do not want to be present, smudging the space the energy occupies can be a peaceful and powerful method of removing it," the website states.
Tuning forks can be used "in conjunction with acupressure points to work directly with sound on the body, to balance and regulate your spiritual and emotional energy channels," according to a musical instrument and healing website.
"There was really no definitive direction in the job description other than helping students. I talk with students about finding their center and their balance" the healer stated in a campus news release. "Many students come here feeling homesick, and I talk to them about our teachings: We all come here with gifts. We're all creative beings, and we need to give thanks for all things that surround us."
"I do dream interpretation. It's really rewarding to see a student's face light up when they discover their own inner strengths, energy, or centeredness," Shenandoah said.
Another key event will be moon ceremonies.
"Every month, the indigenous community at Syracuse gathers to pause and thank Grandmother Moon. She watches over the nighttime sky," she said. "She controls the cycles of the water, the ocean tides, the planting cycles, and the cycle of women"
"Grandmother Moon is continuing her duties," the healer said. "We also thank water during our ceremony and send good thoughts and energy to the creator through tobacco burning."
MORE: Yale sacred music center launches climate change initiative
IMAGE: Syracuse University
Like The College Fix on Facebook / Follow us on Twitter