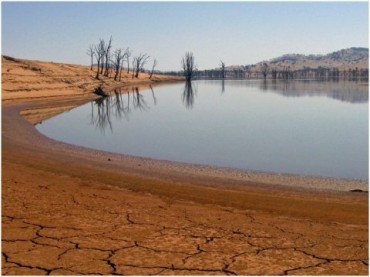 Here we go with yet another "sky is falling" moment: a study by Cornell, the University of Arizona and the U.S. Geological Survey says the American Southwest may face a "megadrought" within the next 100 years.
A "megadrought" is defined as a drought which lasts up to thirty-five years.
The Cornell Chronicle reports:
Due to global warming, scientists say, the chances of the southwestern United States experiencing a decade-long drought is at least 50 percent, and the chances of a "megadrought" … ranges from 20 to 50 percent over the next century.

"For the southwestern U.S., I'm not optimistic about avoiding real megadroughts," said Toby Ault, Cornell assistant professor of earth and atmospheric sciences and lead author of the paper. "As we add greenhouse gases into the atmosphere – and we haven't put the brakes on stopping this – we are weighting the dice for megadrought."

While the 1930s Dust Bowl in the Midwest lasted four to eight years, depending upon location, a megadrought can last more than three decades, which could lead to mass population migration on a scale never before seen in this country.

Ault said that the West and Southwest must look for mitigation strategies to cope with looming long-drought scenarios. "This will be worse than anything seen during the last 2,000 years and would pose unprecedented challenges to water resources in the region," he said.
Before residents of Arizona, etc. begin making big plans to move elsewhere, perhaps they should keep in mind other climate-related studies, and what they predicted. For instance,
"[By] 1995, the greenhouse effect would be desolating the heartlands of North America and Eurasia with horrific drought, causing crop failures and food riots … [By 1996] The Platte River of Nebraska would be dry, while a continent-wide black blizzard of prairie topsoil will stop traffic on interstates, strip paint from houses and shut down computers."
And, from the year 2000:
"Britain's winter ends tomorrow with further indications of a striking environmental change: snow is starting to disappear from our lives."

"Sledges, snowmen, snowballs and … are all a rapidly diminishing part of Britain's culture, as warmer winters–which scientists are attributing to global climate change–produce not only fewer white Christmases, but fewer white Januaries and Februaries."

…within a few years "children just aren't going to know what snow is" and winter snowfall will be "a very rare and exciting event."
In a word, "oops."
Read the full article here.
Like The College Fix on Facebook / Follow us on Twitter
IMAGE: Tim J. Keegan/Flickr