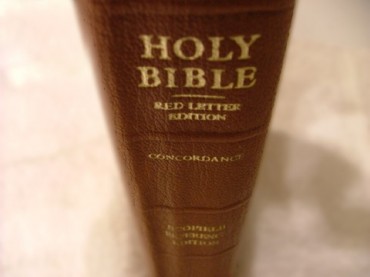 "Rooms at Iowa State University's Hotel Memorial Union will no longer contain Gideon bibles, after a guest complained to a watchdog group about 'unwelcome religious propaganda in the bedside table,'" the Press-Citizen reports.
As The College Fix had reported earlier in the month, the pro-atheism legal group that recently got the University of Wisconsin-Madison to remove Gideon Bibles from campus overnight guest rooms had targeted Iowa State University, sending a legal demand to campus administrators asking them to remove Gideon Bibles from their hotel rooms as well.
"Gideon Bibles should not be in any public university guest room," said Annie Laurie Gaylor, co-president of the Freedom From Religion Foundation, in an interview with The College Fix. "It's unconstitutional, it's inappropriate, it's proselytizing for there to be Bibles in any publicly funded lodges."
A complaint by the foundation prompted the removal of all Bibles from nearly 150 overnight guest rooms inside a large conference center at the University of Wisconsin-Madison in December.
On Jan. 29, the foundation sent a similar letter to Iowa State, demanding its officials remove Gideon Bibles from its overnight guest accommodations, claiming the Bibles represent the university's endorsement and promotion of Christianity.
"Recently, the University of Wisconsin … removed all Bibles from its Lowell Center guest rooms in an effort to remain neutral toward religion," the letter states. "We request that Iowa State University follow suit by immediately removing Bibles from each guest room."
It appears the Iowa university has acquiesced.
But not all attorneys believe Gideon Bibles in state-funded guest rooms is a violation of the law.
"The simple fact is no court has ever ruled that universities can't allow groups like Gideon to come in and place bibles in hotel rooms," Travis Barham, an attorney for the conservative Alliance Defending Freedom, said in an interview with The College Fix. "There is no grounds for removing these bibles. … All these universities are trying to do is accommodate religion, which is a valid thing to do under the law."
Barham cited a 1997 federal court ruling regarding prayer at universities that stated "the people of the United States did not adopt the Bill of Rights to strip the public square of every last shred of public piety."
"That is what the Freedom From Religion Foundation wants to do, but that is not what the First Amendment requires us to do," he said.
IMAGE: Know Him Online/Flickr
Like The College Fix on Facebook / Follow us on Twitter