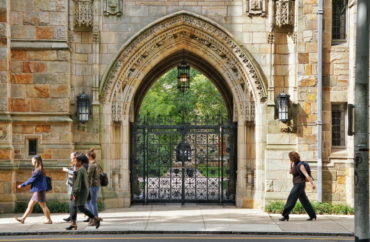 An anti-affirmative action group recently dropped its lawsuit against Yale University after administrators agreed to overhaul the admissions policies in compliance with the June Supreme Court decision that struck down race-conscious admissions.
Students for Fair Admissions had initially challenged Yale's race-conscious admissions policies in February 2021, but the lawsuit was put on hold as the Supreme Court deliberated over similar cases the association brought against Harvard University and the University of North Carolina.
As part of the association's decision Sept. 7 to drop the lawsuit, Yale agreed to make clear in its training materials that race may not be a factor in admissions decisions, according to court documents.
The Ivy League institution also agreed to take "technological steps" to ensure that the admissions committee will not have access to applicants' racial data, stop collecting aggregate data about its student body's racial composition, and rule out race as a factor in financial aid calculations or rewards.
Devon Westhill, president and general counsel of the Center for Equal Opportunity, said in an email to The College Fix this week that "it is promising that SFFA was willing to drop its lawsuit," as "that suggests that Yale's changes are largely satisfactory."
Westhill said he finds it "depressing" that America's best universities "seem to care more about the race of applicants than deeply important qualities of character and merit developed over years such as perseverance and grit," adding affirmative action "sends an ugly message to young people that will divide us more than it will unite us."
Yale's media affairs division and Yale College Dean Pericles Lewis have not responded to requests from The College Fix seeking comment.
In an update sent to Yale students Sept. 7 after the university's agreement with Students for Fair Admissions, Lewis reaffirmed the university's commitment to a "diverse and inclusive" campus while complying with the Supreme Court ruling.
To this end, Yale plans on launching various initiatives, such as new outreach events for prospective students in underresourced regions, travel and lodging assistance for students interested in Yale's Multicultural Open House, and a "high-impact college preparatory summer program" for students from underrepresented backgrounds, Lewis stated.
He also cited a statement from Chief Justice John Roberts' majority opinion: "Nothing prohibits universities from considering an applicant's discussion of how race affected the applicant's life, so long as that discussion is concretely tied to a quality of character or unique ability that the particular applicant can contribute to the university."
The Center for Equal Opportunity's Westhill said the statement opened the door for schools to adjust essay prompts and the like under cover of complying with the decision.
In fact Yale has updated its essay prompts since the June 29 Supreme Court ruling, one of which asks applicants to "reflect on [their] membership in a community to which [they] feel connected."
But Westhill said he believes that the Supreme Court ruling is a significant milestone on the path toward achieving fair college admissions. He added that if admission offices continue to use an applicant's racial characterization as a qualification, it will likely be very hard to hide in big bureaucratic institutions, and could subject the school to harsh penalties.
When asked about the likely demographic results of the next admissions cycle, Westhill said the data "suggests that the share of [Asian and White admits] should increase," noting "if that doesn't happen, it could indicate subterfuge."
SFFA President Ed Blum told The College Fix via email this week that the Supreme Court's decision to rule affirmative action unconstitutional is "a watershed event in the restoration of the colorblind legal covenant that binds together our multi-racial, multi-ethnic nation."
MORE: Constitutional scholars, black conservatives, Asian Americans praise ruling banning affirmative action
IMAGE: Helioscope / Shutterstock
Like The College Fix on Facebook / Follow us on Twitter