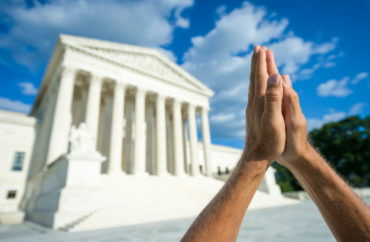 A collective cheer rang out Thursday from a variety of constitutional scholars, black conservatives and Asian American students and supporters after the U.S. Supreme Court handed down a decision banning race-based admissions practices as unconstitutional.
The nation's highest court on Thursday released a 237-page opinion in Students for Fair Admissions v. President and Fellows of Harvard College in which a 6-3 majority determined that Harvard's and the University of North Carolina's admissions policies violate the Equal Protection Clause of the Fourteenth Amendment.
"Today's victory … belongs to thousands of sleepless high schoolers applying to colleges," Calvin Yang, a member of Students for Fair Admissions and a rising junior at the University of California Berkeley, said at a news conference Thursday afternoon.
Yang said he was rejected from Harvard University because of its affirmative action policies and he chose to join SFFA to stand up for those who have suffered.
The victory "belongs to those with the last name of Smith or Lee, Chen or Gonzales; it belongs to all of us who deserve a chance. … We can rejoice in the fact that our children will be judged based on their achievements and merits alone," Yang said at the news conference.
Several black conservatives also chimed in Thursday on social media and in news releases, arguing the decision is a win for the black community.
"Years from now, black students admitted to top schools will say Thank you Supreme Court for a decision that removes the perception the only reason I got in is due to my race. You re-established merit as the core criteria to be considered against a standard bar of excellence," stated Ian Rowe, a senior fellow at the American Enterprise Institute, on Twitter.
Years from now, black students admitted to top schools will say Thank you Supreme Court for a decision that removes the perception the only reason I got in is due to my race. You re-established merit as the core criteria to be considered against a standard bar of excellence.

— Ian Rowe (@IanVRowe) June 29, 2023
The Project 21 Black Leadership Network also published a news release Thursday that cited a parade of scholars praising the decision.
"Using discriminatory practices to supposedly remedy past discrimination was always going to be a recipe for disaster," said Project 21 Ambassador Christopher Arps. "…Today's Supreme Court decision is a decisive victory towards Martin Luther King, Jr.'s dream of a colorblind society."
Project 21 Ambassador Melanie Collette added: "For years, blacks have been told their achievements are not solely their own, and that their skin color somehow played a role in their successes. It's insulting and demeaning to suggest that blacks couldn't have done this without affirmative action's handout."
The justices ruled in Students for Fair Admissions that the affirmative action policies instituted by these major universities are unconstitutional.
Constitutional scholar GianCarlo Canaparo with the Heritage Foundation also joined the chorus of praise for the decision.
"For too long the court has allowed universities to use stereotypes to racially balance their student bodies. Today that ends," he told The College Fix via email on Thursday.
Constitutional scholar Adam Feldman, creator of Empirical Scotus, said the ruling has far-reaching implications for both public and private colleges and universities.
"This ruling not only encompasses public universities but through the Harvard decision also includes universities accepting federal funds as a violation of Title VI. Once the Supreme Court granted these cases the most obvious hypothesis was that the Court would overturn affirmative action with the new conservative supermajority," Feldman told The Fix via email.
Both Feldman and Canaparo said they expect lower courts will experience more litigation as a result of the decision and admissions officials will now use loopholes to continue to administer race-based enrollment decisions.
Universities "may not use race explicitly, but they'll give advantages and disadvantages to zip codes and high schools where they know they will find high proportions of the races they like and the races they don't like," Canaparo said.
Courts will be forced to "draw a line in the sand delineating how race can no longer play a role in university admissions," Feldman added. "The magnitude of this decision and its expansiveness should not be understated."
"It is tricky to predict repercussions beyond the decision's clarity of race based admissions violating the Equal Protection Clause of the 14th Amendment and that this will be applied in all future and pending litigation."
Chief Justice John Roberts wrote the majority opinion, and was joined by conservative Justices Samuel Alito, Clarence Thomas, Neil Gorsuch, Brett Kavanaugh and Amy Coney Barrett; Justices Sonia Sotomayor, Elena Kagan and Ketanji Brown Jackson, the liberal side of the bench, dissented.
In his concurring opinion, Justice Gorsuch quoted Bostock, which determined that employers must exercise sex-blindness when making employment decisions. Even though Title IX – which provides clear protections for sex-specific spaces, including athletics – was not mentioned in the opinion, it is unclear how Justice Gorsuch's inclusion of Bostock will impact future court decisions involving the Civil Rights Act, some scholars say.
Despite what litigation may follow, students say they are hopeful that the court's majority opinion will provide a brighter future for students, properly awarding merit rather than judging students based on the color of their skin.
"Today's decision has started a new chapter in history and the saga of Asian Americans in this country. It marks the promise of a new beginning," Yang said at Thursday's news conference.
Another student of color who weighed in Thursday was Grove City College's Isaac Willour, who wrote a piece for the Lone Conservative headlined "Why I welcome the death of affirmative action."
"The things that allow non-white Americans to rise in today's society are the things that allow everyone to rise: ingenuity, dynamism, personal drive, and good choices. To claim that such virtues can be encapsulated or accurately measured by skin color is inherently racist," wrote Willour, who is also an alumnus of The College Fix.
MORE: Supreme Court strikes down affirmative action in landmark decision
IMAGE: Lazy Llama / Shutterstock
Like The College Fix on Facebook / Follow us on Twitter