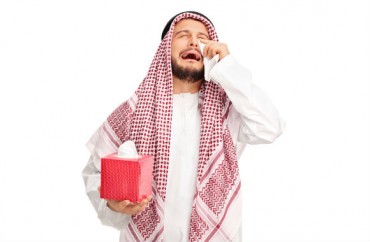 'The most extreme elements are now running' Students for Justice in Palestine
An anonymous pro-Israel group that creates dossiers on anti-Israel and antisemitic campus activists is claiming credit for an alleged plunge in the number of such activists.
A good portion of the students and staff profiled by Canary Mission are active in chapters of Students for Justice in Palestine, a 17-year-old pro-Palestinian organization founded by two instructors at the University of California-Berkeley, Hatem Bazian and Snehal Shingavi.
Since Canary Mission's founding in 2015, "two clear trends have emerged within" the National SJP conference, the group wrote earlier this month in a four-page analysis of October's national conference. "First, participation is down, with around 100 participants in attendance at the 2017 conference. Second, the most extreme elements are now running SJP."
The media relations email for National SJP has not responded to College Fix requests to confirm or dispute the plunge in attendance alleged by Canary Mission, and explain the factors behind any change.
But in a pinned Facebook post the weekend of the conference, National SJP said "hundreds of SJP students, activists and organizers" attended the conference.
Hoping to reach National SJP by another route, The Fix also contacted SJP chapters for New York City campuses and the University of Oklahoma and University of Houston, where October's conference was hosted, through their Facebook pages.
The OU chapter responded and said it would connect The Fix with a member of its board, but did not respond further.
MORE: UT funding threatened if it doesn't denounce antisemitic posts
Count based on Facebook 'going' statuses
Canary Mission claims in its new analysis that the National SJP conference in 2014 drew "nearly 600 attendees." Just months after Canary Mission's founding, the 2015 conference dropped below 500 and 2016 "saw a record low, with just 223 attendees," before last fall's event set a new all-time low.
The pro-Jewish group, which claims it's "run by students and concerned citizens," cites the number of Facebook users who said they were "going" to the conference each year, from 2011 through 2017, on the conference's public Facebook page.
The analysis does not include those who may have attended but did not publicly indicate such on Facebook.
Not all the statements attributed to attendees were actually made in the vicinity of the conference in October, but in their archived online profiles, some of them years old.
"The 2017 NSJP Conference featured some of the most anti-Semitic students on North American campuses," the analysis said, citing "workshop leader" Samer Alhato of Saint Xavier University. But the statement attributed to Alhato is a nearly five-year-old tweet to Barack Obama instructing him to "shut up about gay marriage and go kill all the Jews."
The dossier for one alleged attendee points to her social media activity after the October conference, however: Sarah Abdulmooti of the University of Houston, who retweeted photos of Hamas militants who were killed in Israel airstrikes, with the accompanying text "Rest in peace brothers."
Canary Mission confirmed in an email to The Fix that all of its cited materials were obtained online, not from direct observations at the October conference.
MORE: Roseanne Barr shames Twitter into reinstating Canary Mission
Ex-activists 'had not understood how extreme SJP was and felt manipulated'
Whether pro-Palestine activists are staying home or simply not disclosing on Facebook they planned to attend the October conference, Canary Mission says its database of the activists' online statements is putting unwanted attention on them.
It has "received scores of emails and messages from those profiled on their [Canary Mission's] site, asking to be removed," including "senior activists," according to its analysis.
To show the influence it's having, the group created a section on its website to highlight activists who have allegedly renounced their activism.
After the activists acknowledge and reject "the latent anti-Semitism" in groups such as SJP and the boycott, divestment and sanctions movement against Israel, Canary Mission removes their profiles and shares their "ex-Canary" testimony.
"Many express a similar theme – they had not understood how extreme SJP was and felt manipulated by its leaders," according to the analysis.
Thus far, seven individuals have now been placed in the ex-Canary section, though neither their names nor their affiliations of any kind are given.
In a long letter, one described growing up in a "nondenominational church" that "favored the Palestinians." This person then took college classes that framed the Israel-Palestine conflict as "one aggressor Israel and one victim the Palestinians":
After one [SJP] meeting I joined the group and was thrown into the world of the BDS movement without a true understanding … It seemed that those who fought the most for the BDS movement were not Palestinians, but left leaning community members who had no stakes in this conflict. … As a former member of SJP, I now understand how my actions were Anti-Semitic [sic] and wrong.
Another person who identified as a "hijabi" (a Muslim woman who wears a hijab) allegedly wrote a Facebook post apologizing for "mistakes I made in the past" involving "anti-Semitic rhetoric I've pushed forward."
In a linked blog post from a year ago, the writer admitted to comparing "Hitler to the Jewish community" in a tweet as a 15-year-old and making "more reckless and disappointing tweets" during 2014's Israel-Gaza conflict.
Other controversy has followed the October conference. UC-Berkeley's Bazian, the co-founder of SJP, apologized for retweeting images "that depicted Orthodox Jews as murderous and suggested a moral equivalency between North Korea and Israel," according to the Washington Free Beacon.
The publication also highlighted criticism by an attendee of the October conference, who said its leaders promoted "Arab Supremacy" and practiced "exclusionary behavior" toward non-Arab activists.
MORE: Dossier website on campus BDS leaders unnerves anti-Israel activists
University that hosted conference is a hotbed of antisemitism?
The activism of SJP chapters has often unnerved Jewish student groups, as when its Loyola University Chicago chapter harassed Jewish students and formed a "human wall" around them while they were advertising a trip to Israel for Jewish students.
Northeastern University and Florida Atlantic University chapters also distributed mock eviction notices at the residences of students, some of whom were Jewish.
But Canary Mission holds special contempt for the University of Houston, which hosted the October conference. The public university's pro-Palestine activists – not all formal SJP members – were extensively documented by Canary Mission a year ago.
The group identified 13 UH community members who together "posted dozens of times expressing hatred of Jews and Israel, praise for Hitler, mockery of the Holocaust and threats of violence against Jews."
The pro-Israel activist and conservative firebrand David Horowitz was slated to speak on campus days before the university hosted the National SJP conference, and his organization plastered the campus with flyers saying SJP is "funded by Hamas terrorists." Student protesters repeatedly chanted during Horowitz's speech to the Young Americans for Freedom chapter.
A spokesperson for the University of Houston told The Fix it was "unable to authenticate whether those outlined in [Canary Mission's January 2017 report on UH activists] were indeed UH students." He didn't answer whether a university department had invited National SJP to host the conference on campus or whether National SJP simply rented space on campus as any private organization might.
He questioned "the actual news value" of the university's role in SJP campus activism.
MORE: U. Houston lets in protesters to pro-Israel talk, but not supporters
IMAGES: Ljupco Smokovski/Shutterstock, Canary Mission screenshots
Like The College Fix on Facebook / Follow us on Twitter