Already outpaced by pro-hummus campaign by Jewish students
A student group that aims to expose the influence of libertarian donors over George Mason University has found a new enemy: hummus tied to Israel.
Transparent GMU is among the pro-Palestine and progressive student groups that are calling for a boycott of food products made by Sabra, including hummus sold on the public university campus.
Sabra is a recurring target of anti-Israel boycott, divestment and sanctions activism on campus. The University of Oregon student senate voted in May to ban the student government's purchase of products by Sabra and other companies that are "complicit in Israeli settler colonialism and the Israeli occupation of Palestine."
Transparent GMU did not respond to a College Fix request to explain why it signed the petition to University Dining Services.
It's best known for seeking to uncover the financial influence of libertarian philanthropists Charles and David Koch* over universities including GMU, even going to court.
The BDS petition has failed to get anywhere near its target of 1,000 signatures, Mason Hillel emphasized in an email to The Fix. It has 125 signatures as of Tuesday night.
In contrast, Hillel's Israel fellow and the Israel Student Association got 150 signatures to keep Sabra on campus at an event last week where they handed out hummus.
"So in one day we were able to get more 'pro Sabra Hummus' sign[ature]s, than two weeks [of] attempts 'Against Sabra Hummus,'" wrote Executive Director Na'ama Gold. Though she said the anti-Sabra campaign was two weeks old, the petition appears to have been created no later than Sept. 24, when the first comments on it appeared.
Gold also said Hillel was expecting more than 30 students for a Tuesday event to "make your own Israeli hummus" (below), as part of its efforts to devise "positive programs to promote Israeli products and culture."
MORE: Court blocks anti-Koch group from getting GMU donor records
Selling Sabra violates our 'conscience'
Students Against Israeli Apartheid, Young Democratic Socialists of America, GMU Student Power and Transparent GMU argue in the petition that Sabra benefits from the "illegal occupation of Palestinian."
The brand is "co-owned by the Strauss group, which support the Israeli Defense Forces' Golani and Givati Brigades," and thus implicated in "the slaughter of at least 1,400 Palestinian civilians during a siege on the Gaza Strip in 2009," according to the petition.
It links to a "factsheet" on these claims distributed by PhillyBDS, which itself credits the Students for Justice in Palestine chapter at DePaul University.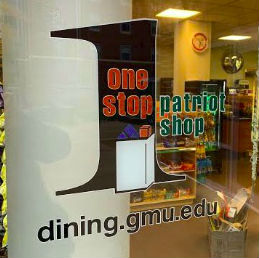 The anti-Koch, pro-Palestine and progressive groups "demand" that university stores including OneStop (left) stop selling Sabra products. The availability of Sabra on campus "goes against the conscience of Mason students, whose commitment to justice and humanity compels them to stand against Israeli violations of human rights."
The public university can't sell Sabra hummus without undermining "our duty as the Mason community to be 'engaged citizens'" and "our duty to stand in solidarity with our brothers and sisters in the illegally occupied Palestinian territories in their struggle for justice, human rights, and peace."
srsly tho sign our petition!!!! and keep your eyes peeled we will be petitioning outside North Plaza this week https://t.co/MI1dYVdt9D

— GMU SAIA (@GMUSAIA) November 5, 2018
MORE: UO student leaders blacklists hummus with anti-Israel resolution
Though the petition has been advertised on Twitter to draw more signatures, Transparent GMU does not appear to have shared the petition or acknowledged its involvement in its social media.
The anti-Koch group has not avoided all alliances that go beyond its core mission, however.
Transparent GMU's pinned Facebook post from August 2017 says the Charles Koch Foundation is "responsible for policies that have targeted Black communities for decades." This week it also retweeted a student activist who claimed GMU has taken "thousands of dollars from the NRA Foundation Inc."
GMU media relations did not answer email queries from The Fix asking for its response to the petition.
Pushed by well-funded 'anti-Semitic movement that harms the Palestinian economy'
The petition has drawn divergent reactions on campus.
The president of a libertarian group on campus told The Fix that, speaking for himself only, "I wholly agree with" the petition.
"I believe consumer choice is a strong tool in free markets and I would not like to see my University purchasing products from an illegitimate occupation," said Yahya Alshamy, president of both the Liberty Alliance and Muslim student group Access Islam.
"We are saddened to see student groups being so easily mislead [sic] into supporting anti-Semitic causes," a spokesperson for the Israel Student Association told The Fix in a statement.
The group is "directly opposed to the BDS petition on campus," it wrote, calling BDS "an anti-Semitic movement that harms the Palestinian economy and despite being a grassroots movement receives major institutional support."
The ISA hopes "our student body can see the obvious problems with BDS and stand with us and the Jewish community in opposing all anti-Semitic action on campus."
ISA is handing out sabra hummus in north plaza … can y'all stop w/ your genocide sauce?

— janine (@queenbeanneen) November 8, 2018
Campus chapters of Students Against Israeli Apartheid and College Republicans did not respond to Fix requests for comment via Facebook and other methods. Young Americans for Freedom and the College Democrats chapters declined to comment.
The GMU chapter of Students Against Israeli Apartheid promotes "anti-normalization," meaning it rejects dialogue with Jewish student groups, according to a January blog post by the campus arm of the Committee for Accuracy in Middle East Reporting in America.
"Any form of meaningful discussion would give the state of Israel legitimacy, a status they were unwilling to grant," wrote GMU student Julian Moss, a campus fellow for the pro-Israel media research group.
"While the Israel Student Association hosts events that share the daily struggles faced by Israelis and Palestinians, SAIA is harassing students on campus with graphic images and shouting down anyone who tries to ask questions," he claimed.
MORE: Anti-Koch activists tolerate academic programs with liberal strings
IMAGE: Zachary Petrizzo
Like The College Fix on Facebook / Follow us on Twitter