May also embolden 'anti-Muslim behaviors'
University of Oregon students that want to eat certain brands of hummus won't find them at any event connected to their student government.
Last week the Associated Students of the University of Oregon Senate voted two-thirds in favor of an anti-Israel boycott, divestment and sanctions resolution, in a meeting attended by more than 200 students, according to The Daily Emerald.
The resolution bars the student government from buying products made by companies that are "complicit in Israeli settler colonialism and the Israeli occupation of Palestine," including hummus makers Sabra and Tribe, home carbonation maker Sodastream and heavy equipment maker Caterpillar.
It says the university "has historically been a proponent in funding the business of state-sanctioned violence," and asks it to divest from companies including General Electric and water cooler maker Eden Springs.
UO President Michael Schill, himself Jewish, told the community in a statement that the approved resolution "contradicts" ASUO's own mission, and that BDS "calls into question the very right of the State of the Israel to exist."
Oregon Hillel, which serves Jewish students on campus, is working with the administration to address concerns from current and incoming students and their families, Executive Director Andy Gitelson told The College Fix in a phone interview.
BDS resolutions are "divisive" and "challenging," he said, echoing Schill's comments: "We feel the BDS movement calls into question Israel's right to even exist. We believe we can find other ways to address these issues."
The group plans to "keep an eye on potential for anti-Semitism and in fact some anti-Muslim behaviors that may arise out of this [resolution], because those tend to be some of the responses that occur when BDS bills pop up on campuses," he said.
MORE: Report says gender studies is a hotbed for BDS activism
'Petty politics' to keep opponents away
The resolution bases its opposition to certain companies on the student government's  "commitment to diversity, inclusion, and safety of members of protected classes, [which] should be demonstrated in our spending practices."
It calls BDS "an inclusive, anti-racist human rights movement that is opposed to all forms of discrimination, including anti-semitism and Islamophobia."
Before the vote, Ducks for Israel circulated a petition accusing ASUO of giving "little attention to the thoughts and opinions of many students, including the Jewish community," on the resolution.
"While our community has profound differences of opinion about Israeli policy, we all agree that anti-Israel BDS measures would harm our community by forcing a division between students," it reads.
A member of Ducks for Israel, Joseph Rifkind, denounced the pending resolution in an op-ed for the Daily, arguing that BDS can spread hate and discrimination against Jews.
"The Israeli-Palestinian conflict is complex, but BDS seeks to place the entirety of the blame on Israel" and it "creates conditions for increased anti-Semitism and the targeting of Jewish communities on campus," Rifkind wrote.
He believes ASUO purposefully proposed the resolution for when pro-Israel senators would be absent, Jewish students would be focused on the Shavuot holiday and other students would be away on a widely attended trip.
This is an example of "petty politics" that was "intentionally designed to silence student voices," Rifkind wrote.
MORE: Pitzer College trustees strike BDS resolution from student budget
In a Facebook post after the vote, Ducks For Israel called the resolution "one-sided and hurtful to many students" at the university.
"To the ASUO, we will hold you accountable for the many concerns we had that you said would not occur following the BDS resolution," it wrote. "We will not stand idly by when it comes to the safety and inclusion of our students on this campus and we hope you will not either."
Ducks for Israel confirmed to The Fix that it was indeed referring to threats or violence against Jewish students in the wake of the approved resolution. It wrote in a Facebook comment: "We were promised that this resolution would not harm any pro-Israel or Jewish students on campus and we will hold them to that."
In a press release shortly after the resolution passed, pro-Israel advocacy group StandWithUs claimed that the "vast majority" of students who spoke at the senate meeting opposed the resolution.
The group's northwest campus director, Noa Raman, attended the hearing (below) and said the resolution was "brought up at the last minute, is full of misleading claims, and promotes an anti-peace agenda."
MORE: Literary scholars that helped kill BDS resolution prepare for backlash
Could be struck down as not 'viewpoint neutral'
On May 25, a day after The Fix first looked at the approved resolution, an ASUO official edited the resolution document to debunk several "myths" about it.
External Vice President Vickie Gimm said Jewish senators were absent "due to their own non-fulfillment of duties" – including one on the annual Lake Shasta trip – and that the author of the resolution, Students United for Palestinian Equal Rights, has included Jewish students from its start. The resolution was also ruled "viable" by the judicial branch, which only requires a "draft" to be submitted a day ahead of a meeting.
She cast doubt on the relevance of the 800 signatures on the Ducks for Israel petition because "many" are not university email addresses, "so it is not possible to verify if all the signers are students." But there are 300 "confirmed" university emails on a pro-BDS petition, Gimm wrote.
(Ducks for Israel claims its petition has "over 850 signatures … with students representing over 170 different student organizations on campus." StandWithUs claims it was 900, though the group says they come from the university "community," not just students.)
This issue has been discussed for "YEARS" at the university, by Jewish people and others, Gimm said:
There was communication and collaboration about this resolution for weeks. Just because this document appeared quickly does not mean it was not researched and it does not mean it is under-developed.
MORE: Syracuse cancels Israel film screening to pacify 'BDS faction'
But the resolution could be struck down this fall because it's not "viewpoint neutral" in the view of several senators, the Daily reported. Supporters of the resolution also acknowledged the student government's judicial branch could strike it down.
This pending hearing of the Constitutional Court is leading several pro-Israel organizations to stay focused on the community and to keep fighting the campus divide they say the BDS resolution has created.
Oregon Hillel's Gitelson told The Fix that an "independent collection of some law students" will review the resolution's "legality" under Oregon law and "law in general," as well as how it fits within ASUO's mission statement "and what they're supposed to be doing."
At least it doesn't ban the 'free interchange of scholars'
President Schill took pains to praise students on all sides for "the respectful manner" in which they debated "one of the most difficult social and political issues of modern times."
In his statement, Schill (below) emphasized the narrowness of the resolution, which "refers only to expenditures and purchases of the ASUO" and does not include BDS planks that bar the "free interchange of scholars[, which] would harm the very mission of our university and interfere with academic freedom."
But he said the resolution was "inconsistent" with the past three years of UO's so-called IDEAL framework and "Diversity Action Plans," which aim to "enhance and strengthen policies and practices that make this campus welcoming and inclusive to all."
MORE: UO faculty endorse student activists who shut down Schill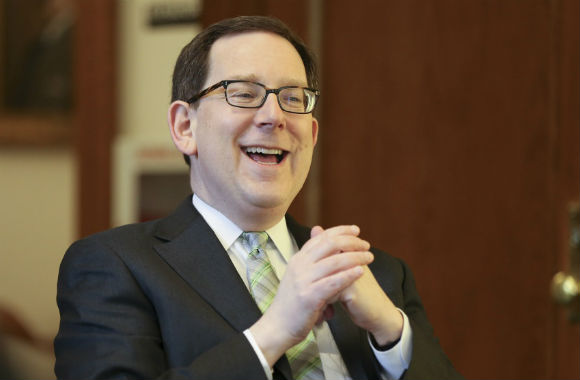 However students feel about Israel or Palestine, "it is important that all of us make every effort we can to avoid dividing our community along the lines of ideology, religion or national origin," Schill wrote.
Pro-Israel groups are emphasizing education and reconciliation in the aftermath of the approved resolution.
"Moving forward … we will continue working together to mend the division that this BDS resolution has already created on this campus," Ducks for Israel wrote on Facebook. "We will continue hosting events dedicated to educating students about the Israeli-Palestinian conflict and we will encourage dialogue and discourse between students with opposing opinions."
Oregon Hillel's Gitelson told The Fix it's working with some resolution supporters to find ways to "heal and come back together in some respects to have constructive conversations," so they can "find other avenues" to deal with issues outside resolutions: "There's no sense in terms of lobbying administration at this point."
MORE: It's a microaggression at UO to ask someone about their tanning salon
IMAGES: etorres/Shutterstock, University of Oregon
Like The College Fix on Facebook / Follow us on Twitter