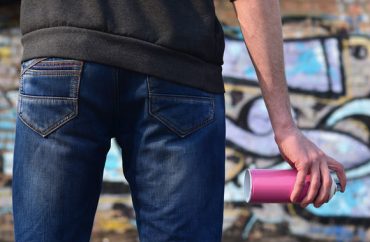 After a week-long demonstration at the residence of University of Chicago provost Ka Yee Lee, it appears anti-police activists left anti-Asian graffiti in their wake.
According to The Chicago Maroon, students affiliated with the group #CareNotCops showed up at Lee's house last Saturday, and stayed until Friday. They wanted Lee to agree to "a public, recorded meeting" at which the group would demand the abolition of the university police department.
In the department's place, UC would "create campus cultural centers and an ethnic studies department."
The demonstrators were first ordered to disperse early (last) Sunday afternoon, which they ignored. They were told again Monday afternoon and evening; after the latter, they began shouting "good night, good evening, we're not fucking leaving" at Lee's house and began to lock arms and form barricades.
@care_not_cops's block party protest has begun and police have issued a dispersal order; demonstrators are building a barricade in response pic.twitter.com/c82WnaYAC0

— The Chicago Maroon (@ChicagoMaroon) September 5, 2020
According to Illinois law, "protests targeting individual residences" are prohibited as are those which block streets.
WTTW reports the activists claim they were harassed by Chicago police every day during their "occupation." The worst escalation was on Thursday when cops allegedly threatened to have protesters' belongings removed by the city sanitation department.
What the station doesn't note is the graffiti activists (allegedly) scrawled around Provost Lee's residence. The Maroon notes that
[s]everal pieces of graffiti rendered in Chinese characters on the pavement […] raised accusations of anti-Asian racism from commenters on social media. Some argued that they contributed towards a perception of Asian immigrants to the United States as 'eternal outsiders' who are inescapably defined by their place of origin. Lee, who is from Hong Kong, graduated from Brown University with a degree in Electrical Engineering in 1986 and has been a faculty member at UChicago since 1998.

Translated into English, one set of characters means "you do not have face," or more colloquially, "don't you care about your reputation?" Another, not pictured, contained a Cantonese vulgarity that, in English, means "fuck your mother."

In a statement released to the University community on Tuesday, Provost Lee condemned the demonstrators' tactics, writing that "the actions that are currently taking place on my doorstep go beyond any civil bounds." She also wrote that "vandalism and personal attacks against an individual" are inconsistent with "civil discourse about societal issues".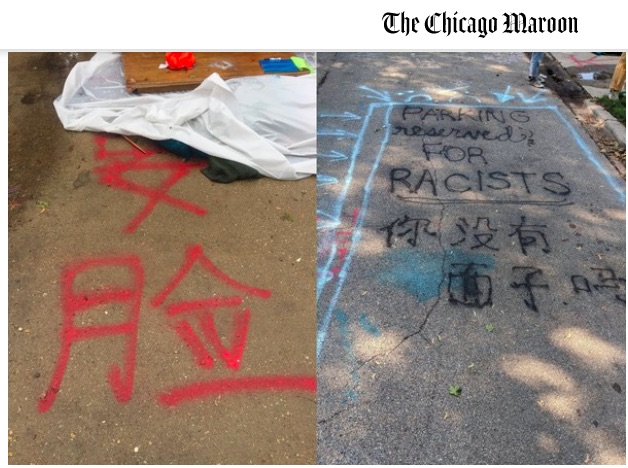 Lee also "flatly rejected" dissolving the campus police department: "I want to be clear that the University has no intention of disbanding the UCPD."
MORE: U. Chicago students demand campus police be disarmed
IMAGES: Mehaniq / Shutterstock.com, The Maroon screencap
Like The College Fix on Facebook / Follow us on Twitter