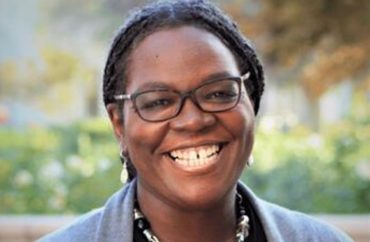 'Her work is centered on educational equity in higher and K-12 education,' university stated
The University of California Riverside appointed an "anti-racism" scholar to lead its School of Education, according to an announcement.
Professor Joi Spencer's scholarship "is centered on educational equity in higher and K-12 education and has resulted in the launch of the Ph.D. program in Education for Social Justice," the university announced. This work has included "the implementation of school-wide professional development on anti-racism, and SOLES' first Diversity Post-Doctoral Fellows Program," the July 26 announcement stated.
She will start her new role on January 1, 2023. She currently teaches at the University of San Diego.
The school also said that Spencer (pictured) is set on addressing equity specifically in the subject of math.
"Joi's research investigates the mathematics learning opportunities of African American and other minoritized youth," the school's announcement stated
The College Fix reached out to a campus spokesperson to ask about the motive behind this hiring decision and what new policies the school hopes Spencer incorporated into its education strategy. Johnny Cruz, the vice chancellor for communications, did not respond to two emailed requests for comment sent in the past week.
As a professor, Spencer has been a contributing author to several papers that have endorsed ideas such as the existence of white supremacy in math classrooms.
MORE: Math can be racist, college claims
"A significant concluding point [of the discussion] was the importance of questioning the White epistemologies on which widespread ideas of mathematics education build," Spencer wrote in a 2017 conference paper.
In another paper, Spencer criticized Common Core standards for failing to prioritize conversations about race and gender in the classroom.
"Further, [Common Core] lacks an explicit focus on race, class, and gender," Spencer wrote in the paper. "[This is] despite the fact that 'institutional and structural racism and political economy loom large in the experiences of urban youth, both within and outside the mathematics classroom,'" Spencer wrote, quoting from another paper.
She continued in the paper to say that the failure to focus on these characteristics will negatively impact minority communities.
"The absence of such focus or so-called 'e(race)ing' suggests that the CCSSM, too, may reflect 'white institutional space' that will continue to marginalize the lives and experiences of students from nondominant communities," the research stated.
The Fix requested clarification on the meaning of terms like "white epistemologies" and "white institutional space" and if the education professor considered her work an extension of critical race theory. Spencer did not respond to two emailed requests for comment sent in the past week.
Former University of California Santa Cruz professor says new hire is part of a trend
John Ellis, chairman of the California Association of Scholars and former professor at the University of California Santa Cruz, critiqued the hiring decision and Spencer's work.
"This appointment is not surprising: the trends in UC have been established for some time," Ellis told The College Fix via email. "This is what is now popular in academia," he said.
"The arguments made for discovering white supremacy in mathematics are never compelling, in fact, they reach a level of absurdity that is embarrassing in an academic context," the former professor continued. "They ought to be a deal-breaker for any serious academic appointment."
"But that is where we now are, and why enrolment in colleges is rapidly dropping," Ellis concluded.
This is not the university's first instance of embracing ideas of "anti-racism" in educating its students.
According to the school's website, students graduating with medical degrees are required to complete modules and attend presentations on "anti-racism" to "reduce the misuse of race within health care."
MORE: 'Math is racist' training bankrolled by Gates Foundation
IMAGE: University of California Riverside
Like The College Fix on Facebook / Follow us on Twitter