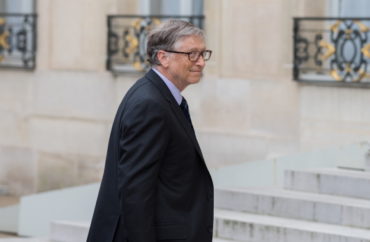 The Bill and Melinda Gates Foundation funded a training manual that argues "white supremacy culture shows up in math classrooms" when students are required to "show their work," among many other controversial lessons.
The "Pathway to Equitable Math Instruction" toolkit also argues that a focus on getting the "right" answer is a "toxic characteristic" of math instruction. The diversity lesson was recently distributed to educators by the Oregon Department of Education as a micro-course in "math equity."
"This toolkit was developed by a team of teachers, instructional coaches, researchers, professional development providers, and curriculum writers with expertise in mathematics education, English language development, and culturally responsive pedagogy," the toolkit's website notes.
It adds: "We also wish to thank the Bill and Melinda Gates Foundation for their generous financial support of this project."
The Gates Foundation is not commenting on why it funded this project, Newsweek reports: "Newsweek reached out the Gates Foundation, asking if it agrees with those assertions and asking it to explain their exact meaning. The group confirmed the donation but was unavailable to comment further."
The Washington Examiner also sought answers from the foundation to no avail:
The Bill & Melinda Gates Foundation also gave a $3.6 million grant to the "Education Trust," a diversity in education advocacy group that has also promoted the Pathway To Equitable Math Instruction.

The Bill & Melinda Gates Foundation did not immediately respond to the Washington Examiner's request for comment.
The College Fix reached out to Dr. Carol Swain, a former law professor at Vanderbilt University. She is a black conservative pundit who follows the activities of Gates and what he does with his billions.
Asked what Gates' motive might be in funding such a project, she said via email it shows his belief in "white intellectual supremacy" and in minorities' "inability to meet the same standards as white students."
She called it a "failure to think through the inherent racism of depriving blacks of an opportunity to learn the basic skills necessary for them to become scientists, doctors, engineers, accountants and pharmacists."
Among the advice doled out in the training kit, it suggests to teachers that "requiring students to show their work reinforces worship of the written word as well as paternalism."
Instead, teachers are instructed to offer different ways for students to show their math knowledge, such as "have students create TikTok videos, silent films, or cartoons about mathematical concepts or procedures."
MORE: Oregon Ed. Dept promotes 'dismantling racism' in math classes
VIDEO: Math is racist now?!
IMAGE: Frederic Legrand / Shutterstock
Like The College Fix on Facebook / Follow us on Twitter