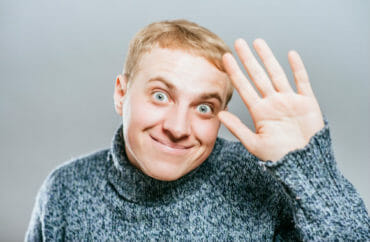 Our 2017 year-end fundraising campaign runs through Dec. 31, so please consider a tax-deductible donation of any amount to help us continue to publish the best campus news in the nation. Thanks for your support!
Pomona College is refusing to explain why it allegedly assigned a male roommate to a female student who claimed she had been sexually assaulted.
Kay Calloway was among the students who protested the private school's response to sexual assault allegations at a campus rally earlier this month.
The protest was sparked by an open letter published by [in]visible Magazine, a self-described feminist publication at Scripps College, a fellow member of the Claremont Colleges consortium.
The anonymous writer claimed that Pomona let a male student back on campus who had sexually assaulted and threatened to kill her, and it warned her that speaking out against its handling of the situation could "jeopardize my case."
'Students can also opt for gender-inclusive housing'
Calloway helped organize the Dec. 7 "No More Violence at Claremont" protest to demand "accountability" from Pomona and the larger college consortium.
An activist for sexual-assault victims throughout her four years at Pomona, Calloway told the Daily Bulletin she left campus for a semester after she was sexually assaulted.
The college assigned her a "male roommate whom she did not know" when she returned to campus, according to the Daily. She said Pomona also "helped the man who assaulted me transfer to another school without a record of why he was expelled."
Spread the word about @pomonacollege's complacency and complicity in dealing with sexual assault by doing these things! #assaultedatClaremont pic.twitter.com/5l4PAH0NjR

— Assaulted at Claremont (@assaultedcmont) December 7, 2017
Mark Kendall, Pomona's director of news and strategic content, told The College Fix in a Dec. 15 email he could not "comment on specific cases" but that he could describe the "longstanding" housing policy.
"When a college assigns roommates, it is with the same sex or gender. Students can also opt for gender-inclusive housing, choosing their own roommate," he wrote.
Kendall did not explain whether Calloway had opted into gender-inclusive housing and did not respond to further requests for elaboration.
Calloway (below, left) did not respond to email and Facebook queries from The Fix about the specific roommate she was assigned, including whether it was a biological male who identifies as female, and whether Calloway had opted into gender-inclusive housing or complained about her assigned roommate to the administration. The Fix's last query was Dec. 19.
our wonderful organizers – Kay & Sagarika pic.twitter.com/JtqF6GeIeC

— Assaulted at Claremont (@assaultedcmont) December 7, 2017
MORE: Catholic university rejects demands for 'trans-inclusive spaces'
Housing Director Frank Bedoya did not respond to inquiries regarding the Dec. 7 protest or whether Pomona's housing policy treats students who don't identify with their birth sex as members of the opposite sex.
The Claremont Colleges, including Pomona, offer an online "Queer Resource Center" that advertises "gender inclusive housing that is available after your first year," as well as "single-rooms" for freshmen.
Students can change their names in the student directory, faculty lists, identification cards and email, as well as list their preferred pronouns. The consortium also offers an "LGBTQ Glossary" to better help students "enact allyship."
A guide to transitioning includes a statement for "Coming out to Faculty and Staff" and explains that the Student Health Insurance Plan covers up to $10,000 for "gender reassignment" costs.
'Life-threatening negligence'
The protest came in response to the [in]Visible open letter by the unnamed student, published Dec. 4.
She wrote that she composed the letter the day before, and had been away from campus for "a total of 34 days" while the Pomona student who attacked her "attends classes."
(The writer's letter indicates she is enrolled at a different Claremont member than Pomona. The campuses adjoin each other, and she said "both colleges" told her to stay off campus during the initial investigation.)
The writer's attacker twice threatened to commit a "double suicide, made explicit with a planned weapon," leading her college to fly her home the next day. She returned three weeks later when the college suspended the attacker, but "when something changed" he was allowed back on campus about a month later, she wrote.
Despite the "safety plan" drawn up to keep her attacker away from her, he was standing "outside my classroom" the next day, leading the writer to stay in her room for a few days. After a meeting with Pomona officials, she said, a revised safety assessment determined she was at "high" risk, at which point she fled to a "safe house" and was "flown to my family the next day."
#assaultedatClaremont protestors set up camp outside Pomona College's Alexander Hall. They intend to be here until 5. pic.twitter.com/eN59WWezw8

— Beau Yarbrough ⌚️🐶 (@LBY3) December 7, 2017
She said Pomona has yet to respond to a Nov. 20 "informal appeal letter" she sent the day before she fled to the safe house:
When I let the administration know that I was writing this open letter, I got a lot of feedback that while I can do whatever I want, it may jeopardize my case and I need to carefully weigh the outcomes. I felt I was going crazy. What could possibly jeopardize my case? I have done nothing, broken no laws, but I can lose my case by simply telling my community my rights are being infringed? …

I feel that I am not being treated as a person, and for me to stay silent any longer on this issue fills me with the same traumatic apathy that filled me during the assault.
Protest organizers created a Twitter account to advertise and document the Dec. 7 rally and share their demands. They called the unnamed [in]Visible writer's situation "one case of MANY" handled by Pomona "with harmful, life-threatening negligence."
The demand list starts with a Dec. 15 deadline to "complete the anonymous survivor's investigation," given Pomona's written procedures. The sexual misconduct policy sets a 60-day target from "the initial intake of the complaint" to resolve complaints.
Much like lawsuits by accused students that claim their colleges don't follow their own policies in Title IX proceedings, the protesters' second demand is "Follow your own policies."
Though Dean of Students Miriam Feldblum – named in an ongoing due process lawsuit – "has PUBLICLY committed to keeping our policies intact," the school is using Secretary of Education Betsy DeVos* "as an excuse to further harm survivors."
Two: Follow your own policies
Though the Dear Colleague letter has been revoked by a violent Federal admin, @DeanFeldblum has PUBLICLY committed to keeping our policies intact. However, Pomona is ALREADY using DeVos as an excuse to further harm survivors #assaultedatClaremont

— Assaulted at Claremont (@assaultedcmont) December 7, 2017
That's a reference to DeVos releasing interim guidance this fall that gives schools more flexibility in their Title IX procedures. The 2011 and 2014 guidance letters from the Obama administration were much more prescriptive. Feldblum wrote in an open letter after those letters were rescinded that the new guidance would not change the school's "current policies and procedures."
Other demands read aloud at the rally included the provision of "trauma-specific accommodations" for alleged victims and expulsion of students who are found responsible for sexual assault.
The Pomona student government followed the rally with its own letter to "express solidarity to survivors on campus" and promise its support for the organizers' demands.
It said the administration was guilty of "systemic negligence" and the Title IX process "actively de-prioritizes the interests of survivors."
Thank you to the members of ASPC who stand in solidarity -against- violence at Pomona and across the 5Cs! #assaultedatClaremont pic.twitter.com/4lv3GItc2F

— Assaulted at Claremont (@assaultedcmont) December 16, 2017
MORE: Pomona dean says 'findings' don't prejudge student in Title IX retrial
IMAGE: file404/Shutterstock
Like The College Fix on Facebook / Follow us on Twitter