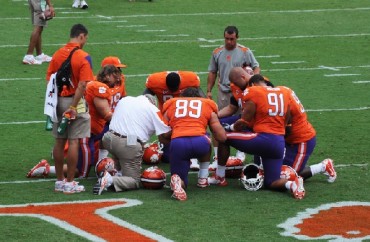 'Pray to Play' report alleges chaplains are unconstitutional
An anti-religion legal activist group has fired off threatening letters to numerous public universities that retain voluntary football chaplains, demanding they be permanently benched under the threat of legal action as part of a new campaign to rid public colleges of sports-based spiritual leaders.
The nonprofit Freedom From Religion Foundation suggests to universities that they should instead hire counselors "if student athletes are truly in need," according to its website.
The foundation argues team prayers and chapel services are not voluntary because "student athletes are uniquely susceptible to coercion from coaches." The demand letters come on the heels of a 25-page "Pray to Play" report the foundation put out Aug. 17 that "is the result of more than a year of investigation, scrutinizing hundreds of university documents and records."
"Only 54 percent of college-aged Americans are Christian and many of the teams investigated have non-Christian players, but 100 percent of the chaplains investigated are promoting Christianity, usually with an evangelical bent," the foundation states on its website. "These chaplains preach religious doctrine, including apparently creationism, to the athletes. Some universities, like Missouri, paid for chaplains and their wives and children to attend bowl games. Other universities paid chaplains for their services, including the University of South Carolina, which has a policy prohibiting such payments. Other universities, such as Auburn, give chaplains offices in the stadium. Chaplains were also involved in recruiting prospective athletes, raising the possibility of violating NCCA regulations."
Among campuses to receive the letters: Auburn, University of Georgia, University of South Carolina, Mississippi State, University of Alabama, University of Tennessee, Louisiana State University, University of Missouri, University of Washington, Georgia Institute of Technology, University of Illinois, Florida State, University of Mississippi, University of Wisconsin and Clemson.
"Public universities and their employees cannot endorse, promote, or favor religion. Yet, many football coaches at public universities bring in chaplains—often from their own church or even members of their own family—to prey on and pray with students, with no regard for the rights of those students or the Constitution," the report states. "These coaches are converting playing fields into mission fields and public universities are doing nothing to halt this breach of trust. They are failing their student athletes. The purpose of this report is to expose this unconstitutional system, encourage universities to fix it, and stimulate further efforts to protect students' rights of conscience."
In response to the report, Auburn University is standing its ground. Its officials put out a statement Thursday stating that "chaplains are common in many public institutions, including the US Congress. The football team chaplain isn't an Auburn employee, and participation in activities he leads are voluntary," Fox Sports reports.
Other campuses have yet to comment on the campaign, according to various news reports.
In 2014, the foundation successfully lobbied a school in Florida to replace its chaplain with a "life coach," Fox News reports.
Like The College Fix on Facebook / Follow us on Twitter
IMAGE: JASON TENCH / Shutterstock.com