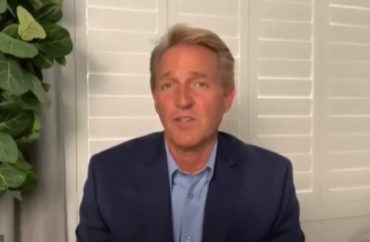 Tells students to be careful how they come off on social media
Former U.S. Senator Jeff Flake, an Arizona Republican, recently told University of California Berkeley students that people need to engage in politics in a "positive way."
During the May 5 speech, Flake said that one person who models behavior well is President Joe Biden, saying that he models "better behavior."
The former Senator said there is less polarization in the White House and "better behavior being modeled," compared to the prior occupant, President Donald Trump. Flake served six terms in the House of Representatives and one term in the Senate. He declined to stand for re-election in 2018 after denouncing then-President Donald Trump in a Senate speech.
"Not that I always agree with Joe Biden, I'm from a different party, I have a different perspective on a lot of his policies, but he's modeling better behavior," Flake said.
He also expressed solidarity with Wyoming Republican Representative Liz Cheney, who had been facing an ultimately successful removal as GOP Conference Chair at the time of the speech.

He told students to "model good behavior when you engage on social media," and that "[w]e need people to engage but do so in a positive way."
"Be careful about how you use social media because it will come back maybe to impact your own career," he said.
Drawn to 'honorable profession' of politics
Moderator Jeffery Thompson, a visiting professor from Flake's alma mater Brigham Young University, asked the former senator what drew him to a career in public service.
Flake said that he wanted "any job where I didn't have to milk a cow anymore."
Flake described growing up in Northern Arizona and how his family members also held public service jobs.
"I saw public service around me in my family, and I was taught that it was an honorable profession, and I saw it practiced by people who really weren't partisan at the state and local government," he said.
After he left office, Flake published the book "Conscience of a Conservative: A Rejection of Destructive Politics and a Return to Principle."
You're doing the right thing for the right reason, Mitt. They'll come around. https://t.co/XjHePfMtv6

— Jeff Flake (@JeffFlake) May 3, 2021

Thompson asked Flake to describe the current polarization in politics.
"You can look at politics empirically and say that we've never had a time when so few politicians are willing to reach across the aisle," Flake said.
Flake went on to describe how politicians have compromised less because there is more "rancor."
"Crossing the aisle or working with the other side often is not just frowned upon by your own party or primary voters, but is sometimes accompanied by death threats," he added.
The former senator referenced the 2017 Congressional baseball shooting in Alexandria, Virginia. The shooting left then-House Majority Whip Steve Scalise in critical condition and three other people with bullet wounds.
"I remember the thought when I turned toward the dugout to run was 'What's he doing?'" Flake said. "How could somebody look at a bunch of middle-aged men playing baseball and see the enemy?'" the senator asked.
Thompson asked the former senator what gives him hope for the future of democracy and for the future of this nation. Flake used that as an occasion to express a hope for where things ought to go.
"I hope politics becomes boring again," Flake said. "I want to see boring politics where people will go back to watching football and The Bachelor or whatever else and not look to politics for entertainment or sparring."
MORE: Biden canceled Trump's patriotic 1776 report, Hillsdale College gives it new life.
IMAGE: Berkeley Haas/YouTube
Like The College Fix on Facebook / Follow us on Twitter