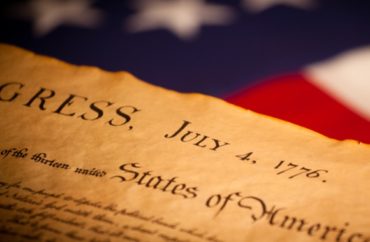 As President Joe Biden was sworn into office in January, his team scrubbed from the White House website a report detailing the patriotic history of America's founding commissioned by President Donald Trump.
But while Biden's people canceled the report, Hillsdale College is making sure it is not permanently deleted.
The private, Michigan-based college recently announced the publication of "The 1776 Report" through Encounter Books.
It will include the full text of the original report. But the 113-page, full-color edition also includes a new preface, notes, and commentary by Larry Arnn, Hillsdale College president.
It also peppers in commentary from Carol Swain, former law professor at Vanderbilt University and Matthew Spalding, Hillsdale College vice president and dean of the Van Andel Graduate School of Government.
That according to a news release form Hillsdale, which notes that "The 1776 Report addresses the meaning of the Declaration of Independence and the Constitution, challenges to the principles of 1776 posed in the past by slavery, progressivism, fascism and communism, and racism and identity politics today, and considers the task of renewing those principles."
The commission's report was seen as a rebuttal to the New York Times' heavily criticized and partially debunked 1619 project, which argues the American Revolution was fought in part to maintain slavery and that Abraham Lincoln was racist.
Although the 1776 Report was also criticized by some scholars, its authors stand behind it. The book undergirds their arguments.
"The addition of explanatory notes and endnotes incorporate commentary from contemporary historians as well as source quotes and documents cited in the original text," the Hillsdale release states.
To learn more about the book, click here.
MORE: Trump's 1776 Commission report celebrates America, rebuts 'reckless re-education attempts'
Like The College Fix on Facebook / Follow us on Twitter