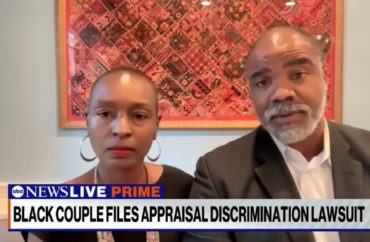 Married couple can also sue the appraiser for alleged discrimination
A Maryland home appraiser can sue two married black professors who accused him of racism for the way he valued their home for a refinance, a judge ruled recently.
The judge also ruled the professors can move forward with their lawsuit against the appraiser, ruling that both had provided evidence to show their suits were plausible enough to continue.
Shane Lanham's counterclaim against Johns Hopkins University professors Nathan Connolly and Shani Mott can continue, District Judge Stephanie Gallagher ruled on Aug. 3. He sued for defamation based on media interviews the pair gave.
Mott and Connolly (pictured) accused Lanham of valuing their home differently because they are black. They filed suit against Lanham for violations of state and federal civil rights, fair housing and and lending laws.
Both have academic interests in racism and discrimination, as previously reported by The College Fix.
Mott teaches Africana studies and Connolly's research focuses on racism, capitalism and housing, according to his faculty bio. The New York Times called Connolly an "expert on redlining and the legacy of white supremacy in American cities."
Lanham's lawsuit referenced his accusers' work.
"Dr. Connolly and Dr. Mott's ill-conceived 'experiment' involving different appraisers, a seven-month gap, and intervening changes in market conditions would not withstand even basic scrutiny in the serious academic environment in which they work," the original suit against the professors stated.
Both professors should have known their "experiment," according to the lawsuit, "was serious[ly] flawed in so many respects that a first-year undergraduate would immediately recognize."
The professors, according to Lanham's suit, "failed to disclose the sale of the similar house next door to their home that sold only a month after Mr. Lanham and 20/20 Valuations' appraisal for $7,000 less than the amount of the appraisal."
The professors set up an experiment months after the initial valuation where they removed any signs of a black family living there and had a separate company value the property.
The federal government has taken an interest in the case, filing a "statement of interest" in support of Mott and Connolly.
MORE: Teach 'anti-racism' to med students using 'Grey's Anatomy,' study says
IMAGE: ABC News/YouTube
Like The College Fix on Facebook / Follow us on Twitter