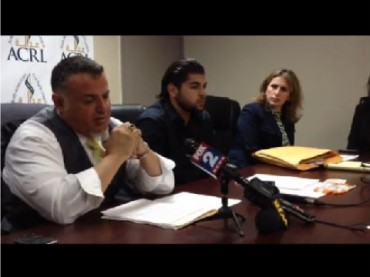 Lawsuit alleges student denied in-state tuition because of family's trips to the Middle East and its 'international contacts'
An Arab-American civil rights group has filed a class-action lawsuit against the University of Michigan after a student at its Dearborn campus was denied in-state tuition.
The litigation was lodged on behalf of Hussein Berry, a 20-year old student studying electrical engineering at the University of Michigan-Dearborn.
The lawsuit states that Berry immigrated to the United States in 2006 with his family and that he and his parents and siblings are U.S. citizens. Berry and his family have lived in Michigan ever since, and Berry attended middle and high school there.
But the university has decided Berry is not a full-fledged Michigan resident, and requires out-of-state tuition, twice as much as in-state tuition.
The lawsuit alleges that decision violates Berry's due process and equal protection rights because Berry meets all the requirements to be deemed a Michigan resident. The lawsuit seeks a refund for Berry's costs and any other damages the court orders.
Ayad Law associate attorney Scott Stawiasz said in an email to The College Fix that Berry was denied in-state tuition simply due to "the international contacts of his parents."
Berry's father, a U.S. citizen, often travels overseas for business. In addition, his mother, also a U.S. citizen, has traveled to Mecca for a Muslim pilgrimage and to care for an ill relative.
"It is the plaintiff's understanding that he was denied residency status due to his father's international business travel, his mother's temporary visitation to Lebanon to care for an ill relative, and his mother's visitation to Saudi Arabia for the Hajj pilgrimage, an unparalleled religious duty for the Islamic faith," the lawsuit states.
In a statement to The College Fix, University of Michigan spokesperson Rick Fitzgerald said "we are confident the university's in-state tuition guidelines are appropriate and constitutional."
Last month, Berry and his attorney held a press conference at the offices of the Arab-American Civil Rights League in Dearborn.
"My only home and address is here in Michigan and that's where I plan on living, working, and starting my family," Berry said at the press conference.
Ayad said Berry was originally enrolled as an out-of-state student, but that the university said they would evaluate his in-state status and reimburse him if he did qualify. They decided he did not. Therefore, Ayad said he believes Berry is being treated differently by the university based on his immigrant family's overseas ties.
The lawsuit is a class-action case on behalf of all students in similar situations.
"Other individuals have contacted our office with similar issues to Mr. Berry," Stawiasz told The Fix.
College Fix contributor Andrew Desiderio is a student at The George Washington University.
Like The College Fix on Facebook / Follow us on twitter
IMAGE: internet screenshot