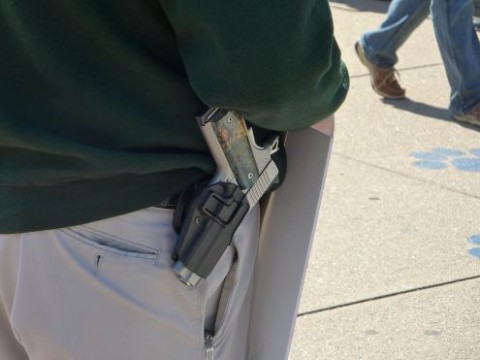 In direct opposition to relatively new pro-gun legislation in Arkansas, most colleges in the state have banned professors from bringing guns on campus – even if the educators have concealed-carry permits.
A new right-to-carry law approved earlier this year in the state carved out exemptions for schools, giving administrators the option to ban guns from their campuses as long as they revisit the issue every so often.
With this loophole in place, Second Amendment rights have met with stiff resistance at many universities, both large public ones as well as smaller colleges.
Campuses that have utilized the exemption include two of the largest public university systems in the state – Arkansas State University and the University of Arkansas – according to Diverse: Issues In Higher Education website.
"Even more are on the way," it noted. "The board for Ouachita Baptist University is set to vote on a recommendation to opt out when it meets June 13. The president of Southern Arkansas University has also said he'll likely ask his board to opt out of the new law when it meets June 30."
In fact, "most Arkansas colleges and universities have opted out of the new law," according to an article on ArkansasBusiness.com.
Some campus leaders, in defending their decisions, say guns on campus are not needed, and claim it's a stance with which law enforcement agrees. But many Second Amendment rights proponents are not happy about the loophole and parade of campuses that have invoked it.
Mike Newbern, assistant director of public relations for Students for Conceal and Carry, a pro-gun group, offered pointed criticisms for Arkansas universities using the loophole.
"We just don't understand how someone trusted to teach in a university and has also gone through the additional rigor to obtain a concealed handgun carry license environment cannot be trusted with their self-defense," he told the watchdog group Campus Reform.
Despite the stance against guns on campuses, Arkansas' conceal and carry and pro-gun advocates have had many successes this year.
Most notably, the Firearm Retailer Protection Bill was signed into law by Arkansas Governor Mike Beebe on March 26. It protects firearm retailers from gun-sting operations by out-of-state agents.
Governor Beebe also amended the emergency powers statute, which prohibits any future governor from abrogating or restricting the transference of firearms during a declared state of emergency.
And Senate Bill 858, currently winding its way through the General Assembly, would force police to recognize right-to-carry permits issued by other states.
Fix contributor Christopher White is a graduate student at the University of Missouri and an editorial assistant for The College Fix.
Click here to Like The College Fix on Facebook  /  Twitter: @CollegeFix
IMAGE: Michael Tefft/Flickr