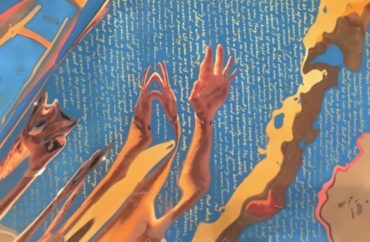 'Hey, everybody needs a hobby'
President Joe Biden's son Hunter may sell some of his artwork (one painting is on the right) for nearly half a million dollars. But a Maryland art professor said that those paintings are worth about $497,000 less than the asking price.
"How much of that value is due to the art itself? That's easy: None of it," Jeffry Cudlin told the Washington Examiner.
The paintings "might fetch between $850-$3,000 for a buyer," the Washington Examiner reported. Cudlin said the art would "hang over someone's couch."
"They're fine decorative amateur work," the Maryland Institute College of Art professor said. "Hey, everybody needs a hobby!"
Cudlin explained further:
If Hunter Biden were applying to school to get a BFA [bachelor of fine arts] in painting, I think a portfolio with these pieces in it would indicate some sense of the medium, some nascent talent, and encourage anyone reviewing it that with a little training and a little study, Biden might one day make some interesting paintings.
George Bergès, Biden's art dealer, said that his work is inspired by people like Francis Bacon or Lucien Freud.
"I can tell you that Freud and Bacon are the favorite painters of every straight white fraternity guy who took a single art appreciation class in undergrad for giggles," Cudlin said, in response.
We spoke to Hunter Biden about his new life as a full-time artist, and his personal quest for 'universal truth' through painting: https://t.co/3FvBxKkfDL pic.twitter.com/eSnX2OCIZs

— Artnet (@artnet) June 14, 2021

"Everyone should try pushing brushes around," Cudlin said, in reference to Hunter Biden and other celebrity artists like Sylvester Stallone. "And if someone wants to pay you a half-million for the results: Cash that check."
The sale of Biden's art has come under criticism from a former ethics chief under President Barack Obama. The White House has arranged a deal where the details of the artwork sales can be kept mostly secret.
"The idea that they're going to flag any overly priced offers — well, this is art that hasn't even been juried into a community art sale," Walter Shaub said.
The former Office of Government Ethics chief said the arrangement is the "perfect mechanism for funneling bribes [to President Biden]."
MORE: Joe Biden paid $200,000 for speech at public university
IMAGE: George Berges Gallery
Like The College Fix on Facebook / Follow us on Twitter