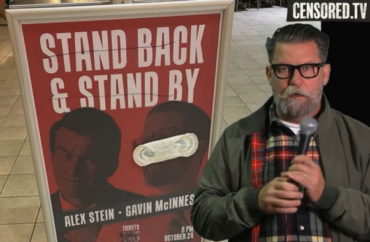 Pennsylvania State University on Monday abruptly canceled a student event featuring rightwing firebrand Gavin McInnes as protests over his appearance escalated and demonstrations turned chaotic.
The event was hosted by Uncensored America, a registered student organization that describes itself as "fighting for freedom of speech."
During the demonstrations before the event, "police ran through the crowd on horses, and appeared to allow a man in a yellow bandana, the color of the Proud Boys, to pass into a campus building after a fistfight broke out among protestors," Yahoo News reported.
The aftermath of the frenzy has turned into a he-said, she-said, as both supporters and protesters of the event now claim to various media outlets the other side sprayed them with chemical irritants.
The Washington Post reported that "a mass email was distributed to Penn State students, faculty and staff Friday from an anonymous group opposed to the event. The message encouraged direct confrontation with the two speakers."
"The university initially had resisted calls to cancel the event sponsored by a student group, citing the importance of upholding free-speech rights. But officials said escalating violence caused them to cancel the Monday event shortly before it was due to begin," the Washington Post reported. "The combination of agitated demonstrators, at least one physical altercation, a crowd surge toward the event venue, and chemical spray from both the crowd and police officers led to the decision, Penn State officials said."
"One person was arrested, but the school said an investigation was ongoing and others could face charges."
The student group event was titled "Stand Back & Stand By" and was billed as a comedy show to feature McInnes as well as Alex Stein. The university had organized an "alternative event" at the same time to offer a venue for students to register their disapproval of the speakers, but that did not appear to solve the rising tension.
"Due to the threat of escalating violence associated with tonight's event, Penn State University Police determined that it was necessary to cancel the speaking event in the interest of campus safety," the university announced Monday night.
University President Neeli Bendapudi on Tuesday added some additional comments in a published statement:
From the start, Penn State's administration firmly denounced the two speakers. However, they were invited to speak on campus by a registered student organization and as an institution of higher education, we support the fundamental constitutional right of free speech and free expression of all members of our community. It is precisely because of this unwavering commitment to free speech that provocative individuals target our campus to deliver speeches.

… Other individuals chose to assemble outside the venue and also exercise their right to free speech in opposition to the invited speakers. It is my understanding that Alex Stein (co-host with Proud Boys founder Gavin McInnes) entered the peaceful protest and this action raised the tension. It is unclear which individuals onsite then resorted to physical confrontation and to using pepper spray against others in the crowd, including against police officers.

… Tonight, Stein and McInnes will celebrate a victory for being canceled, when in actuality, they contributed to the very violence that compromised their ability to speak. Tonight, counter-protestors also will celebrate a victory that they forced the University to cancel this event, when in actuality they have furthered the visibility of the very cause they oppose.
McInnes, who founded the Proud Boys but left the group in 2018, told the Washington Post on Tuesday "I was clearly censored. Alex Stein was clearly censored. The room was tiny. Fifty people probably could fit. Fifty people were denied jokes because of the media narrative about Proud Boys being racist, sexist, whatever the f— they're pushing."
The Hill reported that the "FBI said Friday that it does not consider McInnes's former group to be an extremist group, contradicting statements made by a law enforcement official in Washington state last month."
Prior to the event, Stein engaged the crowd in a trolling manner, taking selfies with protesters and taunting them as they screamed obscenities. He then posted an edited video of it on Twitter that has amassed more than 2.4 million views.
Meanwhile, a letter to the student newspaper on Tuesday from the Penn State Student Committee for Defense and Solidarity accused McInnes of being an "architect of the contemporary nationwide neo-fascist movement" and visiting campuses to "fuel this movement — which attacks trans rights, reproductive rights, worker rights and the lives of Black and Brown people. By giving McInnes a platform to grow this neo-fascist movement, Penn State becomes an accomplice."
But McInnes said on his website that he is currently engaged in a nationwide comedy tour.
The Uncensored America student group also hosted an event in 2021, bringing Milo Yiannopoulos to Penn State for a talk titled "Pray the Gay Away."
MORE: Check out The College Fix's Campus Cancel Culture Database
IMAGE: CensoredTV screenshot 
Like The College Fix on Facebook / Follow us on Twitter