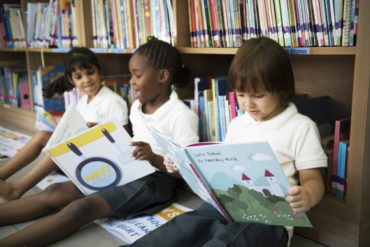 Pro-CRT scholars cancel event to demand DEI remain in new phonics curriculum
The Institute for Racial Equity in Literacy canceled its virtual event to be held this week in partnership with Heinemann Publishing as it ends its professional relationship with the publisher.
The concern lies with a highly anticipated newly developed curriculum for elementary school students nationwide that emphasizes phonics — but includes diversity, equity and inclusion themes and teaching recommendations.
As Heinemann Publishing works to edit out some of that language to ensure it can be used in states that have passed laws restricting critical race theory in the classroom, scholars object to those changes and canceled the event as one way to sway the publisher not to cater to Republicans-led states.
"Due to irreconcilable differences regarding the work of equity, inclusion, and antiracism, effective immediately, we are ending our professional development and publishing relationship with Heinemann," the co-founders and directors of the Institute for Racial Equity in Literacy, Professors Sonja Cherry-Paul and Tricia Ebarvia, said in a statement.
#IREL22 Update pic.twitter.com/pTI3kPW8b8

— Dr. Sonja Cherry-Paul (@SonjaCherryPaul) July 18, 2022
And several institute facilitators also said in their own statement: "As white educators and the institute facilitators who have worked with Heinemann, we want to publicly acknowledge that we are ending our relationship with the company. This decision is rooted in our commitment to the ongoing practice of anti-racist, anti-oppressive education."
The curriculum in question was developed by Lucy Calkin, a professor at Columbia University.
As The College Fix reported in June, Calkin's decision to rewrite her signature curriculum with a greater emphasis on elements neglected by the educational mainstream — especially daily phonics lessons — is considered by some a landmark victory in the struggle for evidence-based reading instruction in American schools.
But the controversy in Calkin's latest "Units of Study" centers around her curriculum suggestions to not have boy groups and girl groups during activities and for teachers to be mindful of children's sexual identities, according to a New York Times article.
"Heinemann and Professor Calkins had become concerned after focus groups with educators in conservative states said the new materials might violate curriculum laws now in place in more than 15 states, including Florida and Texas," the Times reported.
During an online meeting in June, Professor Calkins "expressed regret about the publication delay and said that although she wanted her curriculum to be used nationwide, she did not want to make revisions on issues of diversity and equity that she considered unethical. She indicated that she disagreed with state laws limiting what could be said about race and gender," the Times reported.
However, as Calkin and Heinemann began to edit down the material to avoid potentially violating some state laws, they were met with protests, ultimately leading to the institute cutting ties with Heinemann.
Still, the company is working to publish Calkin's book by the end of the year.
"A comprehensive editorial review of the upcoming edition of 'Units of Study' is being conducted in strict adherence to H.M.H.'s content, equity, inclusion and diversity guidelines," Heinemann said in a statement.
Though many are unhappy with how Heinemann has handled this situation, the company continues its "commitment to diversity, equity, and inclusion," it stated on its website.
The Institute for Racial Equity in Literacy and Professor Cherry-Paul did not respond to requests from The College Fix seeking comment.
MORE: Top education professor shifts approach, vindicating science over ideology
IMAGE: Rawpixel.com / Shutterstock
Like The College Fix on Facebook / Follow us on Twitter