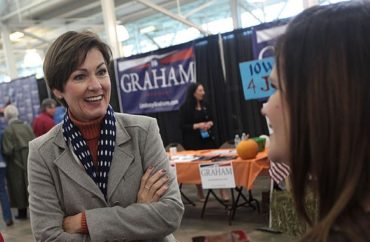 The governor of Iowa hit back at a reporter who questioned her about the potential harms of schools reopening, including the hypothetical future deaths of teachers and students.
David Pitt, a reporter with the Associated Press, asked Kim Reynolds, the Republican governor of Iowa, if it was "inevitable" that a child would get sick or an older teacher would die, during a press conference on Tuesday. He referenced hearing these concerns at school board meetings.
Reynolds responded that she had also heard of concerns — from parents who are worried schools would not reopen. The state of Iowa has mandated that school districts offer in-person classes at least 50 percent of the time.
I've also heard from parents, I've also heard from single moms, I've also heard from moms who have children who have behavioral health issues, also, from all of those, so what we're trying to do is to balance so we can make sure we open safely and responsibly.

We have an obligation to these children, a lot of times it's the underprivileged that are already left behind, it is the kids that are struggling with disabilities, that are living in circumstances that are not very good. And those children will continue to be left behind, we are going to see the gap continue to widen, they have been five months without any kind of instruction, we have kids in daycare.
She referenced the recent completion of a high school baseball season as proof that schools can "safely and responsibly" return to normal. She noted that there would be positive coronavirus cases, but that schools can figure out safe solutions.
"We also have to think about the whole child, and everything, we have to think about their livelihoods as well," Reynolds said.
She recounted stories she heard of full-time working parents that have to deal with varying school schedules and noted that parents that are fearful of coronavirus still have the option to choose fully online education.
Reynolds asked the media to play a part in reporting responsibly on coronavirus so as not to stoke fears about the virus.
"Help us, because I think you're part of the solution," she said, "we need to put the numbers into context."
She added that the media and politicians have a responsibility to "not escalate that anxiety."
Governor Reynolds has promised to crack down on school districts that defy the in-person school mandate.
Reynolds "took a hard stance Tuesday against any schools planning to defy the state's requirement for at least 50 percent in-person learning, warning that unapproved remote learning time will not count toward instructional hours," The Hill reported.
So far, two schools have said they will defy the fifty percent mandate. Iowa has a death rate from coronavirus of just under two percent, with most deaths coming from people 60 and older.
MORE: Teacher's union backs strike to oppose school reopening
IMAGE: Gage Skidmore/Wikimedia
Like The College Fix on Facebook / Follow us on Twitter