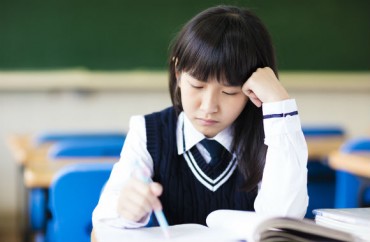 Stop playing 'identity politics' and attacking our children
"These acts prove that they do not care about the constitutional rights of Asian Americans and want to carry on the race-based admission policies that treat Asian American children as second-class citizens."
These are the harsh words from the president of the Asian American Coalition for Education against Democratic lawmakers who are trying to halt the Trump administration's investigation of Harvard's alleged racial quotas that hold down Asian-American enrollment.
AACE united several dozen Asian-American groups to file a regulatory complaint against Harvard for its admissions practices two years ago.
"The AACE strongly condemns this politically motivated and ugly act" by Democratic House and Senate leaders, which "perfectly illustrates their ignorance of relevant laws, underlying facts and disregard of the Constitution of the United States of America," the group wrote in an email blast.
The five lawmakers wrote a letter to Attorney General Jeff Sessions and Education Secretary Betsy DeVos* dated Aug. 18, accusing them of undermining civil rights by investigating Harvard's admissions practices.
It was signed by Senate Judiciary Committee Ranking Member Dianne Feinstein and her counterparts on House Judiciary, John Conyers; Senate Health, Education, Labor and Pensions, Patty Murry; and House Education, Bobby Scott. House Judiciary member Hakeem Jeffries also signed.
MORE: Trump admin reviews Harvard's alleged anti-Asian practices
They asked why a leaked Justice Department job posting mentioned "investigations" if only Harvard was being investigated, as DOJ has claimed, and why Trump political appointees appear to be leading the investigation rather than career Educational Opportunities Section employees.
The lawmakers also suggested DeVos's department was sitting on the sidelines regarding the Harvard investigation and civil rights in general:
Both Departments have worked together on issues of the use of race in admissions programs in the past. … Any effort to limit universities' ability to take students' backgrounds, including their race, into account during the admissions process is an abrupt and extremely troubling shift in policy for both Departments.

This action is especially suspect given this Administration's lack of attention to civil rights issues in our education system thus far. For example, neither DOJ nor ED have publically addressed the spate of racially charged incidents on college campuses nor the rise in white supremacist recruiting efforts and incidents on college campuses which the Anti-Defamation League (ADL) describes as unprecedented.
The lawmakers asked for answers to several questions by Sept. 1, including any new policies under consideration for racial diversity in college admissions, relevant DOJ job postings in the Trump administration, directives given to DOJ employees on admissions and racial diversity cases, and how many employees are in the Educational Opportunities Section.
MORE: Harvard forced to turn over application data in Asian-discrimination lawsuit
They also demanded communications between DOJ or the Department of Education "and any outside group" about the Harvard case or university admissions, and "a description" of interagency coordination and "all communication" between the departments on college admissions policies.
AACE said the lawmakers were wrong about which admissions practices the Supreme Court has blessed, and were ignoring research and testimony that shows Harvard and other Ivy League institutions "have utterly failed to comply" with constitutional directives for 20 years:
Instead, these Ivy League schools continue to use de facto racial quotas, higher admission standards and racial stereotypes to discriminate against Asian American children.
The Democrats "should support the [Harvard] investigation instead of creating barriers to it," AACE said.
President Yukong Zhao repeatedly calls out Feinstein for harming his community:
By playing identity politics and intervening in the DOJ's proposed investigation they have let our country and the Asian American community down. These acts prove that they do not care about the constitutional rights of Asian Americans and want to carry on the race-based admission policies that treat Asian American children as second-class citizens.  I strongly urge Senator Feinstein and her co-authors to withdraw their letter and to apologize to the Asian American community for their mistakes.
Read the lawmakers' letter to Sessions and DeVos and the Asian-American groups' original 2015 Harvard complaint.
MORE: Asian-American groups accuse Harvard of discrimination
Like The College Fix on Facebook / Follow us on Twitter
IMAGE: Tom Wang/Shutterstock