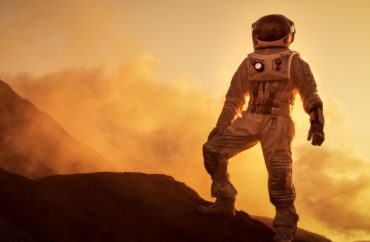 Decolonizing space, explained
To whom do other planets belong? Who should benefit or profit from their resources? How should human settlements on other planets be governed? What duty might humans have to life on other planets, even if it is microbial?
In his new book "Sovereign Mars: Transforming Our Values through Space Settlement," as well as in writings that have appeared in both academic and popular outlets, astrobiologist Jacob Haqq-Misra has thought about many of these questions quite deeply.
"They're probably some topics that we think about in astrobiology that are really unique … that raise some philosophical questions that you wouldn't get in other scientific disciplines," said Haqq-Misra, an astrobiologist at the Blue Marble Space Institute of Science, in a telephone interview with The College Fix.
As distant, hypothetical, or fantastical as some of these questions might initially seem, Haqq-Misra noted, SpaceX and NASA in the United States, as well as the governments of the United Arab Emirates and China, have all set their sights on Mars.
Although Haqq-Misra said he does not believe he has definitive answers to these kinds of questions that may grow more contentious as sustained human activity on Mars edges closer to becoming a reality, he said he thinks "it would be really great if we kept talking about [these matters] before we're standing on Mars."
He said because some subset of these and other questions considered by those in his field are going to have societal implications, they are also going to lead to some amount of activism.
Rooted in DEI ideology and an anti-colonialist framework, much of this activism is carried out in the popular press among well-credentialed academics who emphasize the supposed need to rethink the language of their fields and make vocal exhortations to decolonize space.
"[S]pace exploration is…an extension of our imperial and colonial histories," said science historian and U.S. National Radio Astronomy Observatory fellow Rebecca Charbonneau in an August 2022 interview with Scientific American.
"SETI [the Search for Extraterrestrial Intelligence] in particular carries a lot of intellectual, colonial baggage as well," she said, "especially in its use of abstract concepts like 'civilization' and 'intelligence,' concepts that have been used to enact real, physical harm on Earth."
"Intelligence" is an especially "dangerous word," she stated, due to what she described as its ties to eugenics and genocide.
Theoretical physicist and gender theorist Chanda Prescod-Weinstein, in a 2018 Gizmodo interview published as part of the article "Decolonizing Mars: Are We Thinking About Space Exploration All Wrong?" proposed other terms that should be removed from the astro-lexicon: "colonizing Mars," "exploring" and "developing."
"These are deeply fraught terms," Prescod-Weinstein stated, "that have traditionally referred to problematic behaviors by imperialists with those that we would call 'indigenous' and 'people of color' often on the receiving end of violent activities."
"I want us to move away from the idea of 'exploration' and 'discovery,'" she said.
Lucianne Walkowicz, former Adler Planetarium astronomer and co-founder of The JustSpace Alliance, an organization that seeks to "advocate for a more inclusive and ethical future in space, and harness visions of tomorrow for a more just and equitable world today," echoed similar sentiments when interviewed for the same article.
"It's been troubling to me to hear people erasing what's going on here on our own planet both from an environmental standpoint and an indigenous rights standpoint when they talk about going to other planets," Walkowicz said.
Interviews such as those with Charbonneau, Prescod-Weinstein and Walkowicz leave little reason to speculate why some, such as theoretical physicist and science communicator Lawrence Krauss, have referred to the field of astrobiology as "particularly woke."
Read "Sovereign Mars: Transforming Our Values through Space Settlement" by our Jacob Haqq-Misra. https://t.co/doHzZCiPdL pic.twitter.com/ASNUWewhMF

— Lifeboat Foundation (@LifeboatHQ) November 17, 2022
When asked about these kinds of discussions by activists about language and the need to address the purported parallels between space exploration and historical grievances, Haqq-Misra acknowledged these "can be a distraction."
"I'm not sure what the utility is of that all the time," he said.
"I read some of the discussions in the SETI community that, you know, talk about 'Is [the word 'intelligence'] racist or not,'" said Haqq-Misra. "I don't ever mean to be racist…[But] I don't have a problem with the word 'intelligence' in terms of saying the word and worrying that I'm going to offend someone. I don't think it's inherently an offensive word."
However, Haqq-Misra noted, for scientific reasons separate from the social implications, he prefers to not use the word intelligence in discussions of the search for extraterrestrial intelligence.
To illustrate why, Haqq-Misra explained, "I've been funded by NASA to study technosignatures. A technosignature is remote evidence of technology."
"Technology," Haqq-Misra added, "is something you can detect. Intelligence is not something you can detect. So, I like to focus on technology in my writing."
"An intelligent species might not be detectable," Haqq-Misra said. "Like, maybe dolphins are intelligent. I think that's a really interesting question. Are dolphins intelligent? Are cats and dogs intelligent?…[But] at the end of the day, cats and dogs aren't detectable in an astronomical sense."
"If we're trying to look for extraterrestrial technology, we can then talk about what to look for," he said. "If we look for intelligence, well [something] could be sitting on a planet doing math in the sand that's not detectable from our space telescopes."
"So, I've sort of reached sort of a convergence with people that feel [the word 'intelligence'] is offensive and racist," said Haqq-Misra. "I don't agree that it's offensive and racist. But I don't think it's useful to talk about 'intelligence' anyway."
Likewise, Haqq-Misra said, he takes a similar approach to terms such as "colony," "colonize" and "colonization."
"I would never use the word 'colonization' to offend someone," he said. "But I don't have a problem with the word 'colonize.'"
He just prefers the term "space settlement," he said.
"This is not because I think that 'colonize' is racist and offensive," Haqq-Misra said. "[But] I think it does have an association with the politics and history of colonialism."
He also noted the terms are semantically different.
"A 'colony' tends to imply connections to a homeland, a motherland," he said. "A settlement tends to be a venture that goes off to be independent."
"If you are talking about something [where] you want those associations, then it's a fine word to use."
In discussions of space exploration and interplanetary settlement, though, Haqq-Misra said he is interested in talking about something broader and that avoids those associations.
"What else can we do on Mars in terms of government [and] governance?" he asked. "Well you could be a citizen of Mars. That's something completely different."
MORE: World's top theoretical physicist rejects DEI ideology, says it's anti-science
IMAGE: Gorodenkoff / Shutterstock
Like The College Fix on Facebook / Follow us on Twitter