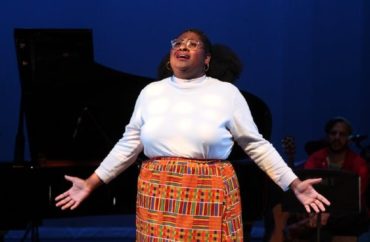 Also tried to say students alone were responsible
Arizona State University denies that an event reported on Tuesday by The College Fix excluded white students from performing in it.
The Fix reported Tuesday on an event called "The Color Cabaret" that "serves as a fundraiser for the BIPOC student scholarship fund."
"This entirely student-led cabaret is an opportunity for BIPOC (Black, Indigenous and people of color) students in the School of Music, Dance and Theatre to create performances that speak to their own experience," the description from the Music Theatre and Opera Student Organization stated.
"The Color Cabaret started out as a chance for our BIPOC students in the School of Music, Dance and Theatre to showcase their passions unapologetically, without having to ask for permission," the program stated.
ASU denies that the fundraiser for BIPOC students and by BIPOC students discriminates.
After originally ignoring a request for comment, ASU's media relations team sent an unsigned article after publication.
The email said:
The Music Theater and Opera Student Organization (MTOSO) is one of hundreds of registered student organizations at ASU. Like every other registered student organization, MTOSO is responsible for planning and organizing its meetings and programming. And like every other registered student organization, MTSO has committed to operating in a manner that does not discriminate. Consistent with that commitment, the MTSO Color Cabaret was open to all Music Theater and Opera undergraduate, graduate, and vocal performance students.
The university is apparently trying to foist responsibility onto the students for any perceived discrimination. But the event is included in the theatre department's spring season of performances, an ASU professor and other staff supported the event and the public college hosted the musical.
The College Fix asked ASU if it could share any advertisements clarifying that the event is open to students of all races. The Fix also asked if ASU's position was that no white students happened to apply for the theatre performance.
"[T]he project was primarily created, designed and performed by people of color – but anyone was allowed to participate. No one was prohibited from participating," another unsigned email said.
University's own news release affirms the show excludes whites
A third email from ASU accused The Fix of "jump[ing] to some incorrect conclusions and assumptions from the State Press article."
But there is ample proof that the event is billed as an event for racial minority students only.
The university's media team itself has promoted the event in a way that showcases its exclusionary nature.
"[T]he Color Cabaret, is centered on featuring the work of students, composers and authors of color, as well as creating roles for or re-imagined with artists of color," a June 2021 news release stated.
"The creative team for the Color Cabaret was formed through personal connections, friends and colleagues from all over ASU – a community of creators of color in all fields of music theater and opera," the news release stated.
Furthermore, it ends with a quote from a student who said she hopes it always remains for racial minority students only. "My hope for the cabaret in the future is to always be a space safely held and reserved for any BIPOC students in the music theater program," co-director Reem Soliman is quoted as saying.
MORE: Harvard downplays role in no-whites-allowed seminar
IMAGE: Izabella Hernandez/The State Press
Like The College Fix on Facebook / Follow us on Twitter