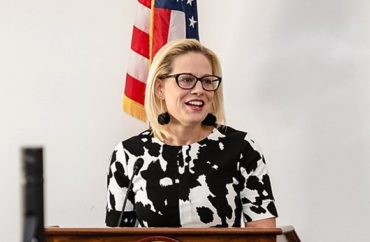 Accused her of violating social worker ethics
Students at Arizona State University want to see Democratic Senator Kyrsten Sinema removed from her adjunct social work instructor position.
"Terminate Sinema's Social Work Teaching Contract with ASU," states a Change.org petition with 603 signatures as of today. She is teaching two courses this semester.
"We cannot support Kyrsten Sinema as a professor or senator," student petition organizer Breanna Wandrych wrote on the petition. "Professor Sinema holds her [Master of Social Work degree] and is a contracted professor within the ASU School of Social Work. She does not uphold the values or ethics of a social worker and should not be teaching social work courses."
"When she teaches in the ASU School of Social Work she is claiming her title as a social worker and should therefore be held to the Code of Ethics," the petition says. "Our code of ethics includes advocating for social justice and policies that promote the wellbeing of diverse communities."
Wandrych told The State Press that Sinema (pictured) has violated Section 6.04 of the National Association of Social Workers ethics code.
"Social workers should engage in social and political action that seeks to ensure that all people have equal access to the resources, employment, services, and opportunities they require to meet their basic human needs and to develop fully," that section says. "Social workers should be aware of the impact of the political arena on practice and should advocate for changes in policy and legislation to improve social conditions in order to meet basic human needs and promote social justice."
"Sinema has lost all credibility to me. I refuse to learn from someone who is standing in the way of large-scale policies that could affect positive, meaningful change for individuals, communities, and the planet," Wandrych said.
Wandrych criticized the moderate Democratic senator for not taking the right positions on a number of issues.
"Her record of failing to promote voting rights, workers' rights, immigrant rights, minimum wage, LGBTQ+ rights, reproductive rights, or healthcare demonstrates her inability to hold integrity within the School of Social Work," the petition said.
Conservative Heritage Action for America gives Sinema a lifetime rating of 9 percent, meaning she voted liberal 91 percent of the time on scored votes.
However, Gov Track in 2019 said Sinema was the most conservative Democrat in the Senate.
Sinema is no stranger to criticism from ASU students.
In early October, illegal immigrant activists followed her and filmed in a bathroom because Sinema was not supporting President Joe Biden's "Build Back Better" legislation. One of the students included a male student who came in and out of the bathroom during the encounter.
MORE: Check out the Campus Cancel Culture Database
IMAGE: Office of Senator Sinema/Wikimedia Commons
Like The College Fix on Facebook / Follow us on Twitter