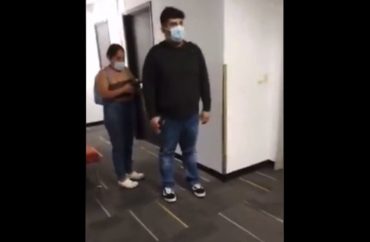 UPDATED
Told her that illegal immigrants 'need a Build Back Better plan'
Illegal immigrant activists, including at least one male, followed Democratic Senator Kyrsten Sinema into the bathroom at Arizona State University on Sunday.
The activists were apparently upset at the senator and ASU lecturer's stance on the multi-trillion social spending bill that is currently pending in Congress. Sinema and West Virginia's Democratic Senator Joe Manchin are holding up the legislation, along with all Senate Republicans.
So they followed Sinema into the bathroom with a camera? Isn't this a crime? pic.twitter.com/czvcUyWr86

— Brian Onorio (@brianonorio) October 4, 2021
One video appears to show the beginning of the confrontation, when a male student asks if he can speak to Sinema, but she says she is "heading out." One angle of the video shows the student coming in and out of the bathroom after confronting Sinema.
"Now is a real moment that our people need in order for us to be able to talk about what is really happening, we need a build back better plan right now," the student said. Other activists can be heard saying that they "knocked on doors for [Sinema]" and that they can defeat her when she is up for re-election. Build Back Better is the phrase used by President Joe Biden for his economic agenda. The pending legislation is called the Build Back Better Act.
"We need 7 million citizenship for 7 million [illegal immigrants]," the male student said.
Another student can be heard saying that she could not attend her grandfather's funeral in Mexico two weeks ago because there is not a pathway to citizenship. She did not name what law prevents illegal immigrants like her from returning to Mexico. She said her grandparents were deported because of Arizona Senate Bill 1070.
🔴BREAKING: Blanca, an AZ immigrant youth confronts @SenatorSinema inside her classroom, where she teaches @ ASU. "in 2010 both my grandparents got deported bc of SB1070…my grandfather passed away 2 wks ago & I wasn't able to go to Mexico bc there is no pathway to citizenship." pic.twitter.com/JDZYY2fOD2

— LUCHA Arizona (@LUCHA_AZ) October 3, 2021
The 2010 legislation, mostly struck down by the Supreme Court, made it a state crime to be an illegal immigrant in the United States. However, SCOTUS upheld a provision requiring law enforcement to verify the immigration status of people suspected of being in the country unlawfully.
"This is the opportunity to pass [a pathway to citizenship] right now," the illegal immigrant student tells Sinema, who is in a bathroom stall at this point.
Another person yells at Sinema that as a survivor of human trafficking, she is at a risk because of a "lack of worker protections" for independent contractors in the "gig economy."
"I need you to stand by workers," the new person tells Sinema. "Will you support the Build Back Better plan?"
Statement Following Events at ASU on Sunday pic.twitter.com/4d3BF9P8CO

— Kyrsten Sinema (@SenatorSinema) October 4, 2021
The activists then follow her back to the classroom, chanting about the Build Back Better plan and amnesty for illegal immigrants.
The Arizona Democrat released a statement on Monday. "It is unacceptable for activist organizations to instruct their members to jeopardize themselves by engaging in unlawful activities such as gaining entry to closed university buildings, disrupting learning environments, and filming students in a restroom," Sinema said.
The full statement can be read above in the tweet from the Senator.
MORE: Illegal immigrant convicted in murder of UIowa student
Editor's note: The article has been updated with a statement from Senator Sinema.
IMAGE: Libs of TikTok/Twitter
Like The College Fix on Facebook / Follow us on Twitter