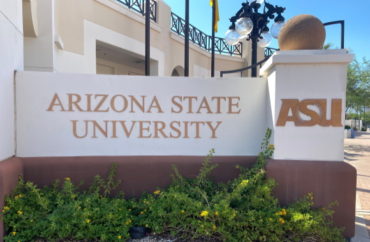 ASU Inclusive Communities training spends state money in manner prohibited by state law, argues Goldwater Institute  
Arizona State University has a mandatory diversity, equity and inclusion training for current and incoming staff and faculty using taxpayer money, and one conservative think tank in the state argues this flouts a state law banning some forms of DEI training.
In 2021, Arizona's Legislature passed a law prohibiting the government from spending tax dollars on training, orientations or therapy that present any form of "blame or judgment on the basis of race, ethnicity or sex." The statute also states no company may make such training or events mandatory to its employees.
Regardless, ASU has required staff and faculty to enroll in an "ASU Inclusive Communities" training, according to a report from the Goldwater Institute. Upon completion of the course, staff and faculty must complete an exam, and any "wrong" answers are reported to their supervising dean, according to the conservative nonprofit think tank.
The report also points out ASU is simultaneously mandating that every student at its Walter Cronkite School of Journalism enroll in a mandatory "Diversity and Civility at Cronkite Course."
The institute has sent two letters to ASU requesting copies of the tests used in faculty training and a copy of the syllabus for the new required course, and threatening legal action should the training and the course persist.
The letters argue this kind of training violates Arizona state law.
"The 'ASU Inclusive Communities" training course," it states, "spends state money in a manner prohibited by this statute and requires employees to engage in training prohibited by this statute."
Stacy Skankey, a staff attorney at the Goldwater Institute, told The College Fix in an interview that "ASU is illegally training their professors on these most radical forms of diversity, equity, and inclusion."
"Some of the topics include white supremacy being written into the foundational documents of our nation," she said. "Here in Arizona, the law is very clear on what you're permitted to do with public money."
The Goldwater Institute found that, according to the new mandatory training, even questions about where a person is from or comments about the color of their hair is considered racist.
Currently, the university has not disclosed all of the information requested by Goldwater attorneys, even after multiple requests.
However, ASU holds that this training contributes toward its mission to be judged based on who it includes rather than who it excludes, in accordance with its charter.
"Our inclusion at ASU is quite broad," Bryan Brayboy, vice president of social advancement at ASU, states on the workplace inclusiveness training website.
"There's a spectrum of political views, there's a spectrum of people who come from different racial and ethnic backgrounds [and] economic backgrounds. The idea here is actually of an expansive view of inclusion, not a very narrow one."
Arizona State University officials did not respond to several requests from The College Fix seeking comment.
According to the ASU Human Resources page, the online, self-paced training is "among the many types of training provided to employees, training on inclusive communities aims to help create awareness, develop skills to meet the needs of diverse students and develop teams of people capable of working together to advance the ASU mission."
Yet, questions are still raised as to whether the ASU Inclusive Communities training undermines what it tries to achieve given some of its curriculum and its ambiguous legality.
"Often DEI is a guise of this very nice concept of diversity, which we do support, but this is the more egregious forms that we're finding here," Skankey told The Fix. "In particular, it is against the law in Arizona, and those extreme concepts are outlined in that statute. To paraphrase, stating that one race is more superior than the other, one race is inherently or morally better or worse than the other, or that one person, because of his race, is therefore responsible or to blame for past things that other members of the same race have done."
Owen Anderson, a professor of philosophy at ASU who spoke to The College Fix on behalf of himself and not the university, said one of the training videos on intersectionality explicitly tells employees that if they are white, men, heterosexual, and able-bodied, they have privileges that give them unearned benefits.
"I can compare what the law says to what these ASU training videos say," Anderson said. "The law says you cannot use race blaming materials and these videos engage in race blame."
ASU was one of many schools in Arizona that previously required staff and faculty to sign a diversity statement, and the DEI policy raised questions over speech rights. The Fix reported in January that some DEI policies may coerce speech rather than promote a holistic academic environment.
MORE: Arizona universities require most applicants pledge support to DEI: report
IMAGE: Melissa MN / Shutterstock
Like The College Fix on Facebook / Follow us on Twitter