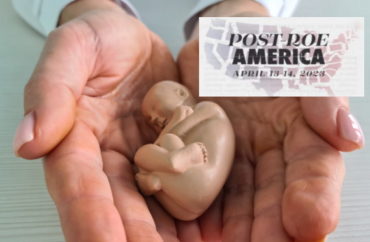 The Supreme Court's decision in Dobbs v. Jackson kicked off a "new phase of the fight against abortion."
That according to Alexandra DeSanctis, a prominent journalist for National Review and one of several panelists and pro-life speakers who discussed how the pro-life movement should proceed at a "Post-Roe America" conference held at Grove City College on Thursday and Friday.
Hosted by the college's Institute for Faith and Freedom, panelists said that as the fight for life returns to the states, the battle is about winning hearts and minds more than ever.
"We don't defeat evil by just naming and attacking," DeSanctis said. "We will be more effective when we have something to say about the good."
On June 24, 2022, the Supreme Court delivered its ruling in Dobbs v. Jackson Women's Health Organization, holding that the Constitution does not confer a right to abortion. The case marked the overturn of Roe v. Wade and returned the abortion debate to the state level.
The conference topic was actually decided months before the overturn of Roe.
"We sensed that a major change could be coming with the Supreme Court and Roe v. Wade, potentially sending abortion largely back to the states. Precisely that happened," Paul Kengor, professor of political science and IFF senior director, told The College Fix. "Knowing that this momentous change might well take place, we asked ourselves: What will this mean for the future of the pro-life and pro-choice movements alike?"
The conference featured lawyers, activists and academics dealing with pro-life issues.
"The event had many calls for pro-lifers to be more compassionate, more generous, to do more for women, and to courageously speak up about abortion," said Liliana Zylstra, a sophomore communications major at Grove City. "Pro-life people need to know more than just that we should do something. We need to know how. The best way to change minds about abortion is to equip pro-lifers to confidently engage with real people and real arguments."
Many panelists spoke on what they described as a tremendous road ahead for pro-life advocates.
"Abortion is the product of a much deeper cultural malaise," said Carl Trueman, professor of biblical and religious studies at Grove City College. "Our world is one that teaches us that desire and happiness are the most important thing in the world … it makes sex all about 'me.'"
He said pro-life proponents have a powerful tool in their corner, personal rhetoric: "Our strongest arguments are our stories."
Trueman said the argument of personal convenience is the most convincing pro-abortion point in the modern era, and pro-lifers need to be judicious in their rhetorical strategies.
"The pro-life movement has to win the moral imagination of the culture," Trueman told The College Fix. "It is going to be hard and we need to be thinking about how to do that right now."
For former Planned Parenthood director Abby Johnson, "right now" means dedicated community involvement.
"Abortion is not happening in Congress. It's happening in our communities," said Johnson, who described becoming pro-life after watching the abortion of a 13-week-old unborn baby. "June 24th was a good day. But, in a lot of states, it didn't do too much… women are still dying inside 'safe and legal' abortion facilities."
One particularly worrying reality voiced by panelists of the post-Roe world is the growing popularity of so-called "abortion tourism," where women cross state lines to get abortive procedures.
"Greed has always fueled the abortion industry," says sociologist Anne Hendershott, explaining how tools like AbortionFinder.org and readily available abortion pills maintain widespread abortion access for women in pro-life states.
Even despite disturbing trends of at-home abortions, however, some speakers reminded listeners that overall abortions are on a downward trend.
"The good news is there's less of it," said talk show host Michael Medved.
Conference speakers also brought a glimmer of hope for attendees.
Writer and podcaster Elisha Krauss urged her audience to be optimistic amid the uphill battle.
"Something the pro-life movement does better than most of the Christian movement is empower women," she said. "If women mattered to the [pro-abortion] movement, the left would be telling us to keep those children. They would be telling us to take over the world while raising the next generation."
To Krauss, the post-Roe movement is cause for renewed hope for pro-lifers across America, particularly through the message the movement carries for women: "Women are realizing they are enough, that there's beauty in the co-creation of life."
MORE: Pro-abortion president to speak at Notre Dame graduation
IMAGE: Institute for Faith and Freedom
Like The College Fix on Facebook / Follow us on Twitter