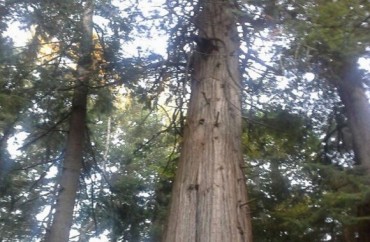 A eucalyptus grove at UC Berkeley played host Saturday to a protest in which naked tree huggers – literally – took a stand against a FEMA-planned fire hazard abatement of the Bay Area.
About 50 to 75 people took part in the protest, "many of them stripping naked in doing so, to make clear their opposition to a proposed FEMA-funded tree-clearing program in the East Bay hills," reports Berkeleyside.
"The Federal Emergency Management Agency in March allocated $5.7 million to the California Office of Emergency Services to remove eucalyptus trees as
part of fire hazard abatement in Claremont Canyon — scene of a devastating wildfire in 1991 — and other nearby areas, such as Tilden Park and Sibley Volcanic Regional Preserve," Berkeleyside adds.
But the protestors disagree with FEMA's plan.
"Together we will peacefully, powerfully gather, share the news that the deforestation plan will INCREASE fire danger in the hills, and then create a dramatic fine art photograph with TreeSpirit founder Jack Gescheidt," stated the environmentalists on their webpage.
But as Professor Steven Hayward points out, there's another side to the story.
"Now, why is this story a 'Civil War on the Left' item? Because the greenies keep telling us that non-native species are a significant ecological problem, and there's considerable momentum throughout California to remove eucalyptus trees, which are definitely non-native and do indeed disrupt nearby flora," he wrote on Powerline. "Personally I like the grand old trees, but aren't we supposed to take orders from our green overlords?"
There are several groups battling this issue out in the Bay Area, including some who argue the plan would "increase rather than decrease fire danger by turning fire-resistant living trees into dead wood left onsite," and others who say "the problem today is eucalyptuses crowd out native trees, leaving a dense eucalyptus forest with oaks and bays underneath, starved for sunlight," Berkeleyside reports.
Like The College Fix on Facebook / Follow us on Twitter
IMAGE: Main, herbmother/Flickr – Inside image: Facebook screenshot