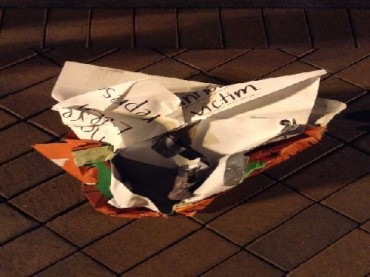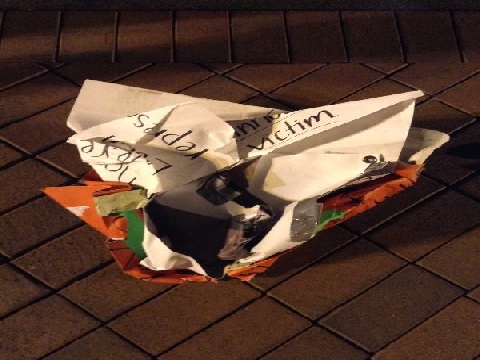 At USC, a prolife student's display was vandalized, and her women's studies professor said it's OK to kill children before they are born
USC Students For Life President Lisa Ebiner Gavit's prolife display of white hearts and informational posters to mark the Roe v. Wade anniversary was repeatedly vandalized Tuesday, and her antiabortion opinions were also criticized during her women's studies class that same day.
But in an interview Wednesday with The College Fix, Gavit – a 20-year-old philosophy senior who aims to become an elementary school teacher – said everything that happened had a silver lining, because it opened an important dialogue on campus and possibly touched hearts and minds along the way.
Gavit and her prolife peers early Tuesday had set up their pre-approved display consisting of 275 white hearts around the famous "Tommy Trojan" statue in the center of campus, along with four large posters: one that cited a helpline for post-abortion counseling; another with an image of a 5-month-old baby in utero and the words "choose life"; a third that highlighted the estimated 50 million abortions that have occurred since the legalization of abortion in America in 1973; and a fourth that explained the 275 white hearts represented how many abortions take place in America every two hours.
"The display got a lot of visibility all throughout the day," Gavit said. "We probably will never know if anybody called that number to find healing after an abortion, or who was touched by it, but it made a lot of people think."
Gavit said when she checked on the display Tuesday afternoon, she noticed someone had ripped two of the posters in half, but a "Good Samaritan" taped them back up, she's not sure who.
Later that evening, when she and her peers went to take down the display, they came upon two female students who had already ripped and crumpled all their posters, essentially destroying them, and were in the process of destroying their white hearts as well.
"I asked them what they were doing and they were kind of condescending, they were like, 'Oh, we are just rearranging the hearts,' " Gavit said, adding soon after the two female students left, one of whom departed while dropping a profanity-laced rant at the group.
Then that young woman returned, apologized, and debated Gavit on abortion for a while.
"At first I was wondering if her apology was sincere or if she was worried we were going to report her, but I let her explain why," Gavit said. "Then I explained our display was not meant to shame women, it was focused on the children. And part of the reason we had the banner on healing after an abortion is we realize there are women or men who might feel that is beneficial to them."
"She was spilling all her views on the issue, and I just let her talk and I just listened, because it was clear she was really hurting," said Gavit, who added she does not plan to press any criminal charges for the vandalism. "I was glad she came back to talk to us, but I do think it is really sad that people feel that they can rip down someone's display because they don't agree with the message."
Earlier in the day, Gavit said was faced with another group of women who did not agree with her display as well.
When Gavit walked into her women's studies class Tuesday, she came face-to-face with a large picture of her prolife display projected onto the whiteboard. Then she heard her professor and some classmates laughing about the display, commenting that the prolife students who put it up must have been too scared to stick around and defend it or talk to passersby. Others wondered out loud if the display was approved by campus administration.
Gavit, who said she had enrolled in the women's studies class to fulfill the university's "diversity requirement," and also because it fit into her schedule, quietly listened, knowing no one realized she was behind the display.
But Gavit said she also chose the women's studies class because she wanted an opportunity to represent a different viewpoint in it. As the small class began with student introductions, as it was only the second time the weekly class had met, Gavit told her peers she had put up the display.
"The professor's face was priceless," Gavit said. "She started laughing. I don't understand why it was so funny to her, she was like, 'Oh, this is too good.' Luckily, she let me explain, and I answered some of their concerns."
Gavit said she told the class her group did, in fact, have permission to put up the display, and that they had thought about sticking around to talk to fellow students, but instead decided more people might feel comfortable approaching it if it was unmanned.
One of Gavit's classmates apologized for their earlier comments, saying they did not mean to offend her. They asked Gavit to go on, and she told them she was prolife and Catholic.
"At that point then they all assumed the only reason I was prolife was because I was brainwashed because I was brought up in the church, and I couldn't hold these position because of factional reasons," Gavit recalled. "I said absolutely not, I base this off a scientific fact that life begins at conception."
Gavit said the professor "very clearly disagreed with me."
"She mentioned she has had a couple abortions and she said it is totally fine," Gavit said. "She didn't mince words at all. She said something like it's OK to kill your own children before they are born. … It was in the context of mentioning how some Northern European countries are starting to be OK with infanticide, so she was saying she is not there yet, but it is OK to kill your own children before they are born."
Ultimately, Gavit said she was pleased to be able to represent another side to the class.
"It was a pretty interesting debate, all and all, and I am glad we were able to have it," she said.
IMAGES:  Lisa Ebiner Gavit
Like The College Fix on Facebook / Follow us on Twitter