UPDATED
Auburn University should have known what it getting was when it hired Jesse Goldberg as a lecturer of African American & American Literature and Composition.
In May, Goldberg took to social media to complain about the school's "battle cry" containing the word "war."
After getting blowback about it, one of his responses said "Wait till MF-ers find out I'm queer and teach in goddamn heels too. They gonna get madder."
According to Yellowhammer, the lecturer whose Twitter bio notes he's an "abolitionist" with interests in "Critical Prison Studies" and "Queer Theory," this week responded thusly to an ACLU tweet about (Black Lives Matter) protesters being "abducted" by "unmarked officers":
F*ck every single cop. Every single one. The only ethical choice for any cop to make at this point is to refuse to do their job and quit. The police do not protect people. They protect capital. They are instruments of violence on behalf of capital.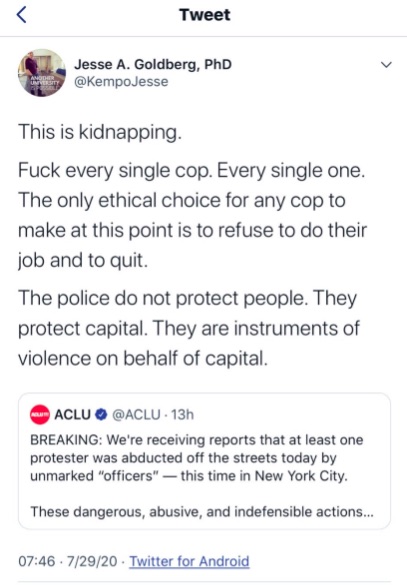 Goldberg reiterated some of his tweet's points on Facebook, adding "ACAB" ("All Cops are Bastards") and calling the "kidnapping" of rioters "a brutal display of fascism."
Goldberg has since deleted the noted tweet and protected his Twitter account. His Facebook page is still publicly viewable, however, which includes a cover photo of a poem titled "Against the Police."
In response to an inquiry from Yellowhammer, Auburn noted that university officials were "considering options available" to them. Public Affairs Director Brian Keeter said
We find Mr. Goldberg's comments inexcusable and completely counter to Auburn values. Hate speech of any kind is simply wrong. Auburn is fully committed to the fundamental right of free speech, but we do not support hateful words or actions that degrade, disrespect or exclude. Especially during these difficult times in our nation, it's vital that we reject crude stereotypes and work together to foster mutual understanding and respect within our communities.
Early Friday, Goldberg took to Twitter to express concern over coverage of his comments: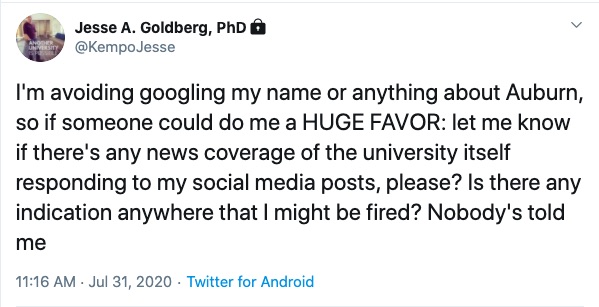 According to Humanities Commons, Goldberg's research and teaching "broadly fall within the triangulation of Black studies, critical prison studies, and queer & feminist theory." He's currently working on a book titled "Abolition Time: Reading Queer Justice in Slavery's Afterlife."
Read the Yellowhammer article.
UPDATE: Adam Steinbaugh of the Foundation for Individual Rights in Education emails:
Faculty members at public universities possess the First Amendment right to share their personal thoughts on matters of the day without institutional censorship or punishment. The First Amendment protects faculty who subscribe to the belief that police should be defunded or prisons abolished, just as it protects those who oppose those beliefs. Auburn cannot lawfully punish Goldberg for his comments, which are protected by the First Amendment, no matter how offensive or outrageous others might find them
MORE: Auburn U. prof won't say school chant because of the word 'war'
MORE: Prof threatens to report white K-12 teachers for 'pro-police rhetoric'
IMAGES: Krakenimages.com / Shutterstock.com, Twitter screencaps (first via Yellowhammer)
Like The College Fix on Facebook / Follow us on Twitter