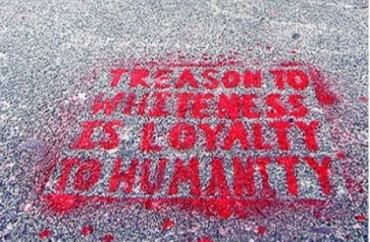 If there is one thing that's fairly constant in the academy, it's you can count on sociology and/or "studies" professors to push it to the limit with the academic nuttery.
At South Dakota's small, private Augustana University, instructor Susan Claussen Bunger believes that the United States' (and the world's) social and economic maladies are centered around white people's "grip on privilege."
A teacher of Contemporary Sociology and Native American Studies whose academic interests include social stratification, power in society, and cultural diversity, Bunger writes in the Argus Leader that the white race essentially was a bunch of pack rats who took from others, and then used the gains to establish a global racial hegemony:
White people gained power through conquest and force, and through the ability to roam the world and take advantage of that power.

Historically, cultures such as Mesopotamia and Egypt first established civilization as a fundamental foundation, while the white race remained a barbaric lot.

Taking the best those civilizations had to offer and twisting it to their own advantage, the white race eventually managed to control the seaways and thus the economy of the day. They slaughtered, maimed, divided and conquered their way throughout the world; and via a fabricated, vindictive catalog (concocted by the Northern European Teutonic people) rated the global races, crowning themselves the apex of racial standards.
"Little has changed" today, contends Bunger, as white privilege is the country's "institutionalized dominant ideology":
White people reserved most of their trained assault upon those "not like them." […] White privilege — an unearned power, license and position in life conferred upon people simply because they are white — is entrenched in society, and every day it is allowed to continue it legitimizes inequality and hate. …

When white people hold the power to sanction or not sanction national protests, thus denying powerless groups the right to express their world as it exists, they are invoking white privilege. When white people direct important national conversations, and are able to decide what the meaning of patriotism is, they are invoking white privilege. White privilege allows the voices of hate and ignorance to diminish others.

In our unequal system of reign and law, white people get final say regarding major issues, including who is helped in natural disasters; who has the right to vote; who has the right to protest; who has access to clean water; who gets quality health care; who is imprisoned; and who is protected from unjust laws.
Like other academic progressives, Bunger speaks of "open and honest" conversations about race, but given her own words she wants nothing of the sort; after all, she states outright that if Caucasians "cannot grasp" her racial historical narrative, then they're an example of white privilege.
Or, to put it another way: Be like Bunger, else you're "continuing to stroke" the "fragile ego" of (white) privilege … "spineless" and "waffling" between "pacifying the white race" and saying "what needs to be said."
MORE: Teacher made students stand up and apologize for their 'white privilege'
MORE: U. Pennsylvania teaching assistant will call on white guys 'if she has to'
IMAGE: Josh Parrish/Flickr
Like The College Fix on Facebook / Follow us on Twitter