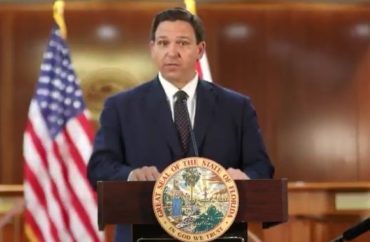 Florida politician who made the claim stands by allegations
Florida Governor Ron DeSantis said it is "obviously false" that he requires state board appointments, including those for the University of Florida, to donate $100K to his campaign or lose their position.
The accusation came from the Sunshine State's Commissioner of Agriculture and Consumer Services, Nikki Fried. She is running against DeSantis in 2022 for governor and made the comments at a candidate town hall.
"Our current boards of trustees across the state were required to give a campaign contribution to Ron DeSantis in the amount of $100,000," Fried said at a town hall sponsored by the United Faculty of Florida professors' union. "And if they didn't give him the campaign contribution, they were not reappointed to the boards," the lone statewide-elected Democrat said, according to Florida Politics.
"You can look up everyone who I've appointed. So we have however many universities, however many state colleges," DeSantis said at a December 17 press conference. "And you could look to see based on their record. And it's obviously false on its face,"
"It's yet another baseless conspiracy charge that's thrown around. And it's obviously not true," the governor said.
His press secretary told The Fix that the accusations have no merit and the "allegation is absurd." She said the governor selects appointees based on the merits and their ability to help oversee the administration of the universities.
"For every gubernatorial appointment, including university boards of trustees, Governor DeSantis selects appointees who are willing and able to fulfill these constitutional duties," Christina Pushaw told The Fix. "The trustees are responsible for setting cost-effective policy, implementing and maintaining high-quality education programs consistent with the university's mission, performance evaluation and developing a process meeting state policy, budgeting, and education standards."
Fried said at the town hall that she heard about this in a "private conversation."
The Fix emailed Fried and her spokesperson Erin Moffet on December 22 and 27. The College Fix asked for proof of the accusations and to be put in touch with the person she spoke to that made the allegation. The Fix also asked if Fried had filed an official criminal complaint or had advised the source of her claim to contact state or federal law enforcement about the allegation.
Neither responded to the requests for comment.
Longtime Florida political journalist skeptical of claim
A veteran political reporter in Florida is skeptical of Fried's claims.
"Her campaign offered campaign donation data this year from [trustees] Hosseini, Cole, and Patel at UF, along with one university trustee at Florida International University, three at the University of Central Florida, and two at the University of South Florida," Florida political journalist Scott Powers reported.
"Of those, only [Mori] Hosseini, FIU Trustee Carlos Duart, and USF Trustee Leslie Muma gave $100,000, based on the campaign donations tabulated by Fried's campaign," Powers wrote.
"Campaign contribution records are mixed, showing some university trustees are big donors, and some are not," Powers said. "There is little in the state's campaign finance data that would point to a $100,000 minimum or which would suggest trustees who do not provide big donations risk losing their positions."
MORE: DeSantis announces Stop Woke Act to take on critical race theory
IMAGE: Ron DeSantis/Twitter
Like The College Fix on Facebook / Follow us on Twitter