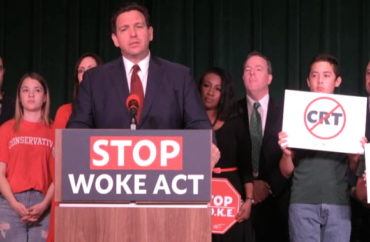 'We want people treated equally. We don't want ideology,' DeSantis said
Florida Governor Ron DeSantis recently unveiled the Stop the Wrongs to Our Kids and Employees Act, or Stop WOKE Act, to oppose progressive indoctrination in schools, higher education and corporations.
The proposed legislation would put into statute a prohibition on teaching critical race theory in K-12 schools and defund money going toward critical race theory consultants at every level of education, including colleges and universities.
"No taxpayer dollars should be used to teach our kids to hate our country or to hate each other," DeSantis said during a Dec. 15 press conference announcing the proposal.
DeSantis spokeswoman Christina Pushaw told the Washington Post that the legislation is being drafted and is expected to be brought before the state legislature in January.
It would follow a move made in June by the Florida State Board of Education to ban critical race theory in public schools. The amendment added by board members states in part instruction, including regarding critical race theory, "must be factual and objective."
It also forbids using the 1619 Project for curriculum and states educators "may not define American history as something other than the creation of a new nation based largely on universal principles stated in the Declaration of Independence. Instruction must include the U.S. Constitution, the Bill of Rights and subsequent amendments."
"Following the passage of the ban on critical race theory, we realized it was a great first step but that it hadn't gone far enough," Pushaw told the Post. "We are optimistic about this [proposal] because we do have legislative leaders who are interested in this and support legislative rights."
DeSantis, in his mid-December news conference, equated wokeness to "a form of cultural Marxism" tearing at "the fabric of our society and our culture."
"I think what you see now with the rise of this woke ideology is an attempt to really delegitimize our history and to delegitimize our institutions," he said.
The Stop WOKE Act targets consultants that make thousands of dollars providing critical race theory training to teachers, bringing the ideology to K-12 schools and colleges.
Consultants using the term "equity" to describe their trainings is "just an ability for people to smuggle in their ideology," DeSantis said.
The legislation would ban school districts, colleges and universities from hiring CRT consultants.
The Florida governor's office did not respond to inquiries from The College Fix on whether the law applied to private universities.
To ensure the enforcement of the Stop WOKE Act, the bill would give parents, employees and students "a private right of action" to hold schools accountable, allowing individuals to recover attorney fees when they prevail in a lawsuit.
One critic of the proposal is Florida state Sen. Shevrin Jones, a Democrat, who told CBS12 News the threat of lawsuits could create a chilling effect in classrooms.
"Does that mean we can't teach children about what it meant during the civil rights movement to talk about racist policies?" Shevrin asked. "I just believe it's a very slippery slope."
The College Fix did not receive a reply from several professors at the University of Florida and the University of Miami regarding the impact of the bill, if it passes, on academic freedom.
In addition to education, DeSantis also addressed the impact of woke ideologies on employees in corporate settings.
Woke corporate trainings are "used by corporate America to create hostile environments for their employees," DeSantis said.
The governor asserted this "corporate CRT" or "corporate-sanctioned racism" violates Florida civil rights laws.
DeSantis is known for speaking out against CRT. Earlier this year, DeSantis announced a plan to provide teachers with a civics training program that offers a $3,000 bonus upon completion.
He said during the recent press conference that Florida has "done more than any other state to place a renewed emphasis on American civics" and teaching kids about the Constitution.
MORE: DeSantis' new curriculum initiative will promote teaching civics, disavow CRT
IMAGE: Facebook screenshot
Like The College Fix on Facebook / Follow us on Twitter